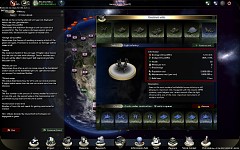 Judging by the feedback from around the net on the open beta of "Phase" people seem to enjoy the game, but there seems to be one big problem : Turn-based games are pretty much a rarity now and a lot of people don't really know what to do in the game or how to be successful and win a game. I've had several people telling me that the game looks great and polished, but that they just didn't know what to do and therefore never really played it.
So with the beta now in a stable state with only a few features and some content missing, I decided it was about time to put an extensive, interactive tutorial into the game (in addition to the manual).
The tutorial will come in two languages (german and english) and will span across 70 chapters (divided into 14 different areas. It'll be completly interactive and will guide you through all the different areas of the gameplay, including hints, notes and tipps to guide you through the game.
Hopefully this extensive tutorial will help new players get into the game that would otherwise be put off by the complexity of a turn-based game.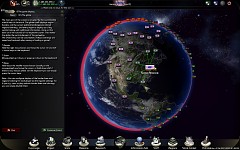 I don't have an ETA on a release currently, as writing such a big tutorial during my sparetime seems to take ages (it's already ~16,000 words with most of the english translation still missing) and I'll have to proofread and check it afterwards. And besides writing the tutorial itself I also have to add new functionality to parts of the code to allow it to be scripted from the xml file that defines the tutorial, so yes, it's a lot of work. But in the end I hope this pays out and get's new players into playing the game.
Other than that I'll also have some bugfixes for the next relese and it'll also include the new 360° space backdrops. I really wanted to replace the old backdrops along with the odd-looking water plane for years but never really got around doing so, but after some quick testing of that new space skybox the game looked much better and it also gave the game a different mood as it now really feels like you're looking at earth from somewhere in space rather than having a globe floating on an infinite waterplane. And since this is a sky box with 360° of rotation I also can add some animated objects in the background like flickering stars and (at some point) a sun with lensflares and a moon orbiting around earth. And yes, I even have plans to incorporate the moon into the gameplay ;)
So stay tuned for the next release...