Hi all,
As those of you that have been following the project will already know, we are fast approaching the release date for the PC version of Hyphen. All things going well we will be making it available for sale at the end of the month or at the latest very early next month. Anyone who has pre ordered the game will be getting it a couple of days earlier than everyone else, mainly as a thanks but we also need to coordinate the release across all the stores we have chosen to sell Hyphen on for the main release.
We've been spending the last few weeks adding bits of pizzaz to the game and we just wanted to show a few bits of it off a bit! Although on their own these things seem trivial,they certainly give the game that little bit of extra polish.
Firstly we have implemented close call detection - the stick now turns red, the pad vibrates and a warning sound plays if you get close to a wall or object and are at risk of hitting it. While this is an aid to new players, it also serves as an additional distraction for the more advanced players. It's definitely a double edged sword :-
Secondly we have implemented social sharing. Now when you finish a level you can "brag" to your friends on Facebook, Twitter, Google+ and LinkedIn :-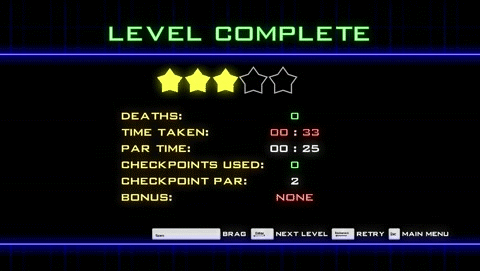 Last but not least is the in game clock - we have now made it so the clock hands on the clock icon rotate to match the amount of seconds elapsed:-

If you are interested in Hyphen then more information can be found at:-
The game is also available for pre order at 12.5% off full retail price from:-
We are still running the competition where the winner will receive a free copy of Hyphen on launch. If you fancy your chances, the competition rules and criteria can be found at:-
As always thanks for your support and please feel free to get in touch if there's anything you want to ask or just want to talk to us!