Hi! Max is here and some fresh sunady news are coming!
So, let't not waste our time and take a look at some changes, that i've made this week.
VISUAL DEVELOPMENT
First, it's about mountains textures. When generating ramdom map, mountans get their own textures, which depends on mountains height and climate. This is just cosmetic change, but looks good:
Second, i've added a map of the terrain, and during landscape generation process it shows the actual position of the mountains, hills etc. It's very helpful, because your character has no map at all, when game starts.
Also remember, that every time you generate new map, it will be absolutely unique: shape, mountains and hills positions and shapes, climate, objects etc. - all is unique and depends on many factors.
I think i didn't forget anything and now let's talk about forests.
FORESTS
The main RULEs concept - is to give you absolutely unique game experience every time you start new game. Random is main word here and forests are not an exception:) Amount of forests in the map, its size, tree types, objects in forest like rocks, flowers, bushes - all is random. Of course, you can't find strawberries or bananas in nothern climate etc. All is realistic, don't worry:)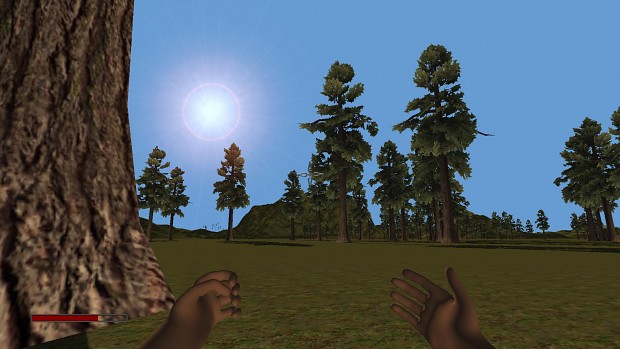 Continental climate
And the main thing is that you can download the last version
of RULE and try all this new stuff!

Hope, you'll like it!
Because main subject of todays news is landscape generation the question for today is:
SHOULD THE PLAYER HAVE AN OPTION TO CHOOSE GENERATION SETTINGS, IF HE OR SHE WANTS TO? CHOOSE A CLIMATE, RELIEF ETC? OR LET'S RANDOM DECIDES?
That was all, friends! Don't forget to download the last beta!
Till next sunday!
Max