Hi friends!
Hope you've missed RULE because I have something special for you today, and i'm sure that you'll like it!
So, let's begin our Sunday News # 6. And first let us speak about some little changes, that i made.
INVENTORY
I've made some changes in inventory window and now it looks much better: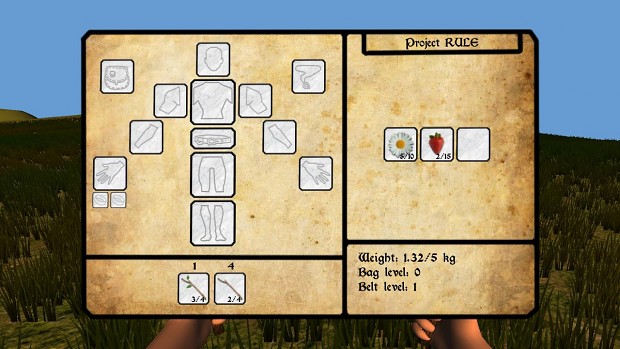 As you can see, the player can carry limited amount of different stuff and max weight depend on different stats, skills etc. So, be wise leveling your character!) But, this is only beginning, the main thing, that i've been working on all this time is landscape generation!
LANDSCAPE GENERATION
Finally, i've made random generation of the landscape. I'll comment the following screenshot and tell you about landscape generaton.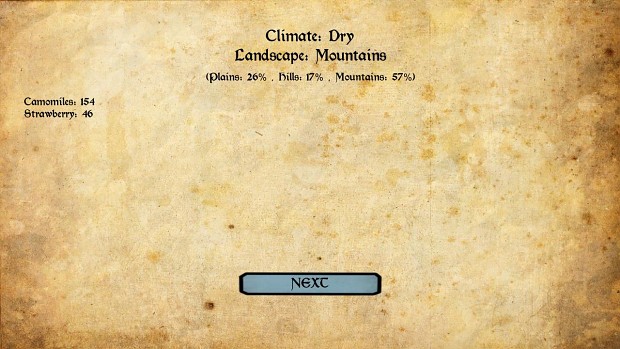 First, as you can see, there will be 5 climate types in the game:
- TROPICAL,
- DRY,
- CONTINENTAL,
- MODERATE,
- POLAR,
and 3 different landscape types:
- PLAINS,
- MOUNTAINS,
- HILLS.
All will be generate random when new game starts. You just press "Generate" button and get your unique and random lanscape!
You can ask me, why there is only one screenshot about generation, this is very important feature! Yes, you're absolutely right and today there will be no screenshots, no bonus videos, but there will be something more intresting! I decided, that the best way to show you landscape generation will be release of the first BETA! The version of it is 0.05, and the main goal of it is to give you a chance to play with landscape, that will be unique every time you start new game! Enjoy!

INSTALLATION
1. Download the archive with the game and unpack it.
2. Lunch the game with Project RULE v 0.05.exe!
INPUT
SHIFT - sprint;
TAB - change regime;
I - inventory;
C - character menu;
NOTES
- Please, let me know if you'll find some bugs - this will help my project a lot!:)
- Remember that this is only first beta made for landscape demonstration!;
- Building, items etc. will be in the next version, so be patient!
- Your antivirus should check all files in the archive first;
And in the end traditional SUNDAY QUESTION:
For how much are you ready to buy or make a pre-order of indie game? Or it should be free? The main word here is INDIE or independenet - the developer has no pressure prom the publisher but at the same time has no material resources for the game, getting all himself.
Leave your comments, friends!
So, that's all fr today. Play RULE, watch for updates and have a nice day!