Hey all! Glad to see a lot of interest so far!
This has been a pet project of mine for a long time, and although I've only actually started full development in the past week, I've been spending a much longer time learned the source coding, modeling, and the like. As such, now that I've got most of "The Hang" with the engine, production should be moderately paced.
Project Overview:
Doom: Source is a mod for the HL2 Source Engine, intended to replicate the Weapons, Enemies, Sounds, Themes, and Atmospheres of the original Doom game. While maps/chapters/story progression will not be identical to the original game, it will be based around it (So expect original maps, with one or two 'classics' thrown in, or plenty of easter egg hat-tips to the original levels they're themed around).
Development Plan:
Currently, the progress made on is relatively low, but there is a lot on the plate. The project at the time is mostly conceptual (Sketching of models, monsters, etc), with the outline being laid out. The current project plan is in this order:
Weapon Models
Weapon Textures
Weapon Animations
Weapon Coding
Monster Models
Monster Animations
Monster Coding
Monster Textures
Map Environments
Map Texturing
Map Skyboxes
Background Maps
Game Sounds (Starting with Weapons)
Playtesting
Game Music
Intro/cutscene choreography
Multiplayer design
Please note this list is subject to change, and time frames are currently estimated at about 2 months on each (Obviously some will be longer, and some will be shorter).
Development Exposure:
It can be said that any good developer/modder or group rewards the people interested, and as such, expect to see this page updated as much as possible for me. While some of the content uploaded (Images/videos) may be trivial (Such as WIP models, Texture WIPs, etc) a little something is always better than nothing, right? I plan to have at the least one new image uploaded once a week, and/or one new video uploaded biweekly. There will also be common questions posed in the news sections asking for player input as to what you like, what you want to see, opinions, etc. These questions will be listed at the bottom of News entries as "Community Question", please leave comments on anything you can!
Interested in getting involved?
Want to work on this project, too? Well keep checking back! I will almost constantly have a list up of desired people to join, as there will always be something that can be better. This section will be just above the Community Question, named "Wanted!" with details.
What happens after release?
Well, release is a long way off (Currently projected at a finished mod in 2012, however alpha/beta testings may be earlier). However, expect this mod to be continually updated as I have time for. Bug fixes, expansions, and more are all necessary parts to making a mod successful.
I have a question you didn't answer!
Send me a message, or leave a comment, and I'll answer it ASAP! :)
---
That about wraps up this first overview. Please check back regularly for new images, videos, and other teasers. I'll leave you with a very rough sketch for the shotgun animation from the HUD, and the wanted/community questions for this article.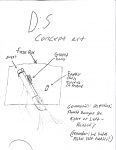 Wanted!
Currently I am looking for the following. If you have interest, please send me a message.
Experienced Texture Designer.
Electric Guitar Player, with decent experience, interested in working with me on some re-vision of the original soundtrack, as well as new additions.
Community Question:
As per the picture; Should I make DoomGuy right- or left-handed? He holds every weapon in a right-handed post, except the pistol, which he holds and fires left-handed.