It's been far too long since my last update, but I have put a lot of work into the game since then. Here are some notable items.
New boss.
Checkout the gif below:
So far I have four bosses. I'm hoping to have a total of five for the finished game.
New move.
I call it the cannonball:
I added this move because I wanted some sort of trade-off between attack types. Rather than simply adding a more powerful weapon, this one gives you a meaningful choice: powerful cannonball attack but you change your position closer to the enemy, or stay back and fire as usual. It also offers a different traveling speed which allows for a more dynamic experience across the board.
New environment.
Well...actually it's one I've been working on for a long time. It's the sky levels where you fly around on your jetpack, exploring the tropopause, stratosphere, etc.: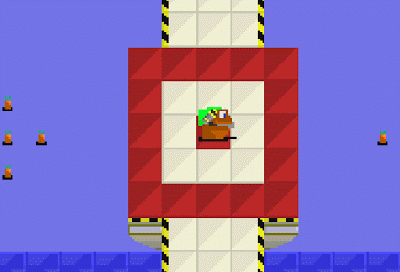 Some more screenshots: