I've been furiously testing HABAI. CPU's have been left glowing white hot ! I've discovered that a few problems that I've had have been due to using Battlefield 2 (BF2) patch 1.5.
So I installed a 1.41 version of BF2 and what a pleasure it is to use for a single player like me ! Now I can be in a squad and have full access to commander resources. AIX2 is also a pleasure to use in 1.41 as this is what it was designed for. What a shame that EA ruined this with the 1.5 patch, and with one of the major BF2 mods out there. Maybe they will amend their error one day, AIX2 devs would certainly deserve that.
Talking of AIX2, I am concentrating on an AIX2 release now (I need to change my mod page graphics). This makes sense as AIX2 has always been the mod aimed at bot game play. This is where the full benefits of HABAI can be seen - where the bots have access to as many functions as possible.
So now in 1.41 I can join a squad when the maximum number of squads has been reached AND become the squad leader.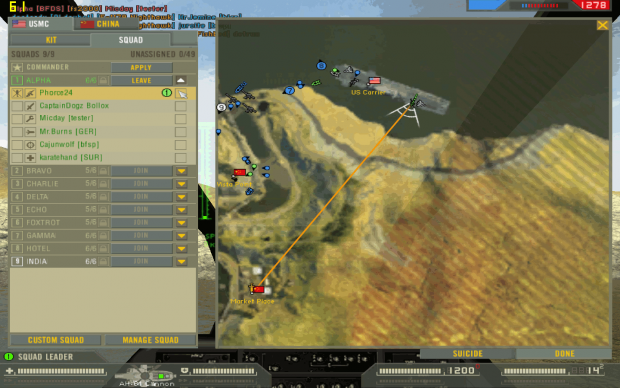 1.5 would not allow this. This changes everything as the maximum number of bots is no longer an issue. The actual sane upper maximum is 108 bots in total as any more bots than this will not have orders from the commander and will stay in the area where they spawn. However they should react to nearby enemies. Machines with bigger CPU frequencies per core will be able to run more bots. But there may also be a limitation related to BF2 net code. I'm getting some occasional hit delays (there is a delay between a hit on a soldier and the actual death animation). However for the improvement in bot intelligence and reaction to their environment it would be small thing to put up with, and remember BF2 was probably never designed to have this many bots in it. This may all get cleared in further testing and settings tweaking
I need to do some more benchmarking but the best thing about all this is the stability of BF2 with the HABAI setup. In fierce bot encounters the frame rate on my machine can drop from ~50-60fps down to ~25fps but it's hardly noticeable. Before this set up I would get severe immersion killing stuttering with this number of bots in a game started from inside the client.
Keep on eye on Battlefieldsingleplayer.com in the next few weeks as I will be releasing something for others to test.