Two major changes have been made to the rendering engine since the last progress update. The mountains, which were looking a little bare and low poly, now have more detail, normal maps and textures. The point lights (as opposed to the sun, which already had atmospheric scattering) that are placed in all lanterns now have their own light scattering added to them.
To improve the mountains, the engine now breaks mountains up into small patches, and for each patch generates six levels of detail - one very low poly patch (2x2 pixels), one low poly patch (4x4 pixels), one normal poly patch (8x8 pixels), one high poly patch (16x16 pixels) and one very high poly patch (32x32 pixels). Additionally, a 128x128 pixel patch is generated to create a normal map for all patches. The normal map adds a lot of detail - and makes even the very low poly patches look feasible from a distance. Each patch can be swapped out for one of the 5 levels of detail depending on it's projected size on the screen, and the very low poly patches are used for collision detection. A mountain might be made up of 8x8 of these patches, which are generated to fit seamlessly next to each other. Finally, experiments with textures on mountains are being made - no single texture could cover an entire mountain and look good, so instead, I'm using small, tileable textures and overlaying them based on the position and slope of the mountain. The following screenshots use two of these preliminary textures, one grassy and green for low slope areas, and one rocky and gray for high slope areas.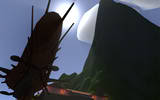 Imposing Mountain (click for full size)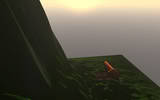 Grassy Valley (click for full size)
The next major change was light scattering for point lights. Before this update, only the sun had light scattering added (to create effects like sunset). This is because light scattering effects are expensive, and while doing them for one light source (the sun) is ok, doing them for hundreds of little point lights would be too expensive. However, using an image space post processing effect, I have added an approximation to light scattering for point lights. The scattering creates a light glow around lights caused by light scattering inside the atmosphere, and is most noticeable inside clouds and denser atmospheres. This effect will also allow for stunning lighting effects caused by lightning bolts inside of clouds.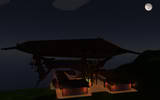 Nighttime Scattering (click for full size)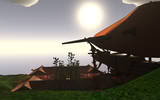 Daytime Scattering (click for full size)
The final minor update has to do with the silhouette lines. Tweaks were made to the algorithm to stop the random line artifacts that were appearing when looking at the mountain from a distance.
---
Short video showing off all of the above updates:
Also, as you might have noticed, the above screenshots include a new airship (with preliminary textures), the medium broadside class airship, modeled by Shrew81.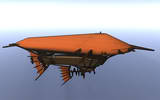 Medium Broadside-class Airship (click for full size)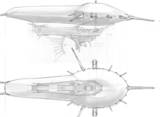 Original Concept Art (click for full size)