Welcome again! After a quite long period of public inactivity, we can finally post a little update. Let me show you a few examples of the FX Mod's progress. First, the most obvious change. I'm sure many of you had known that just after Codeuser gave me the leadership of the mod. Yes, the infamous laser beams are now in.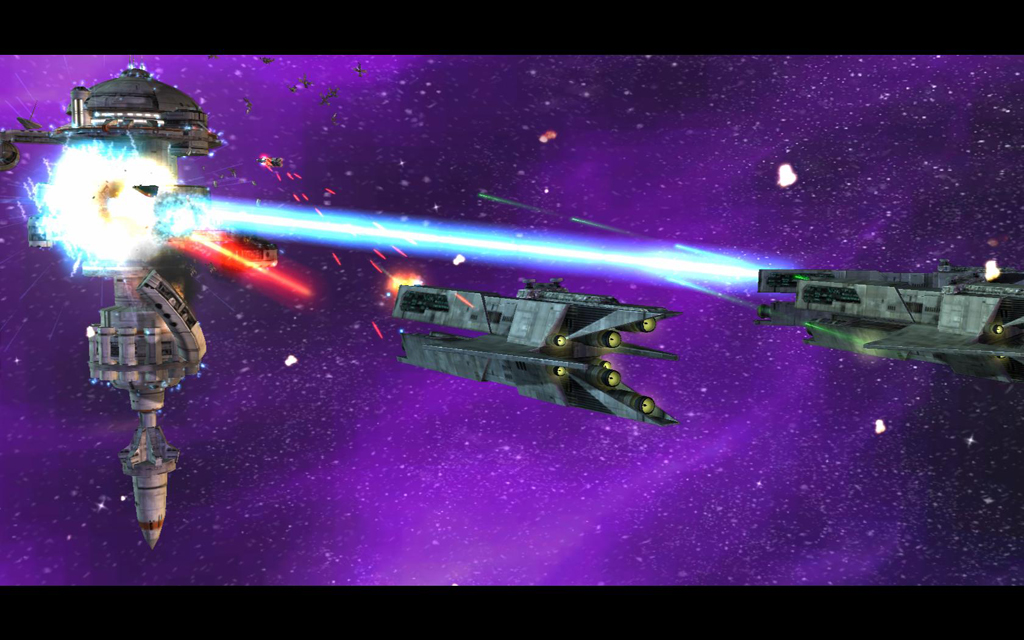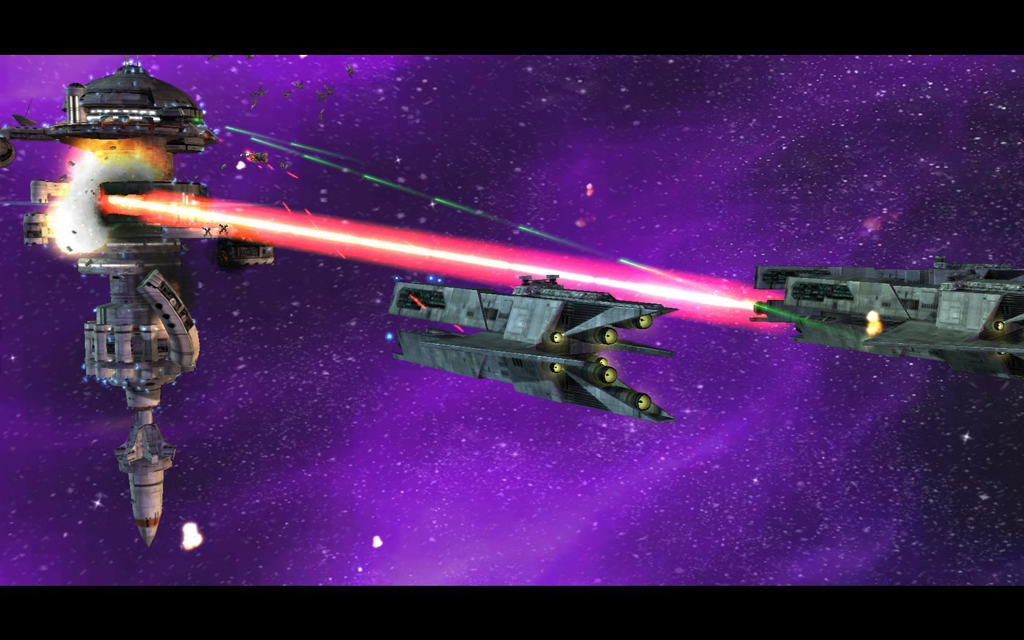 Of course they have been improved.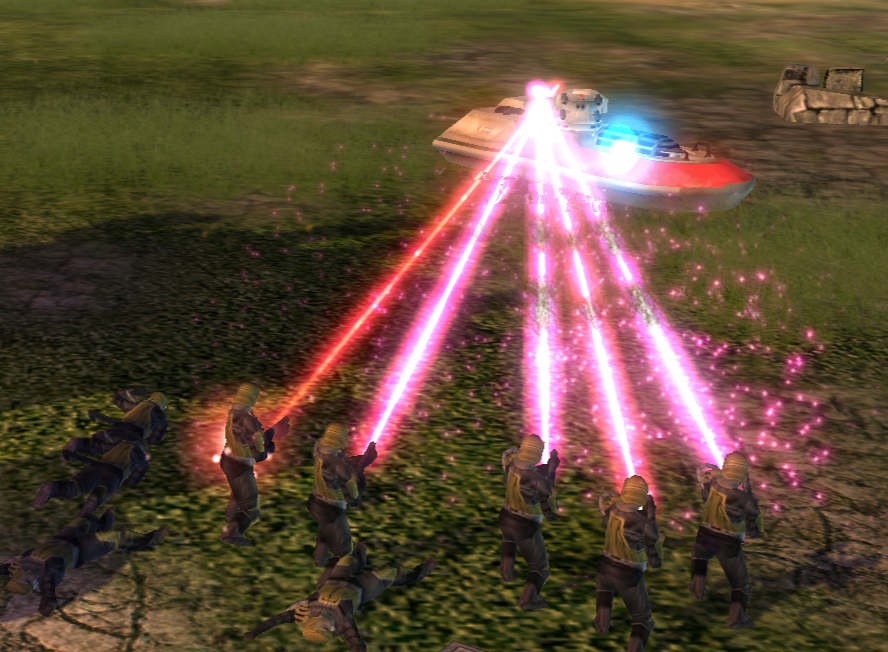 Disruptor beam how it is supposed to be like. These ugly, pink balls are there no longer.
It might have seemed impossible, but the other particle effects have been enhanced as well. The changes are slight, but noticeable. With the pack of brand new textures, the explosions have become more dynamic, more flashy. They also emit much more smoke.
It's hard to show it on screenshots. However, there's a video. Its quality is quite low but it should show you what were the changes:
New laser flash effect: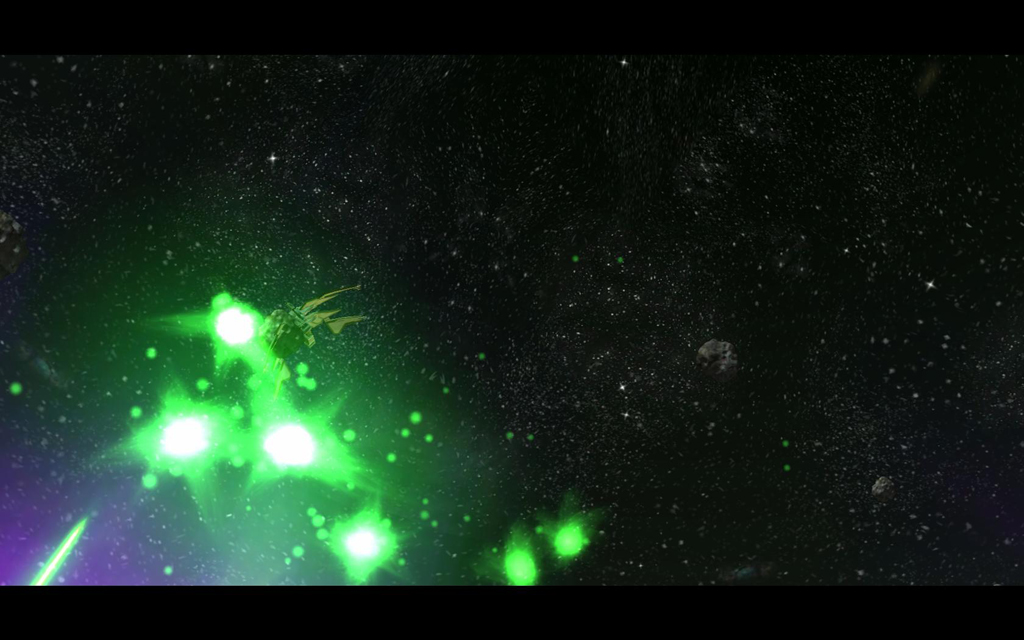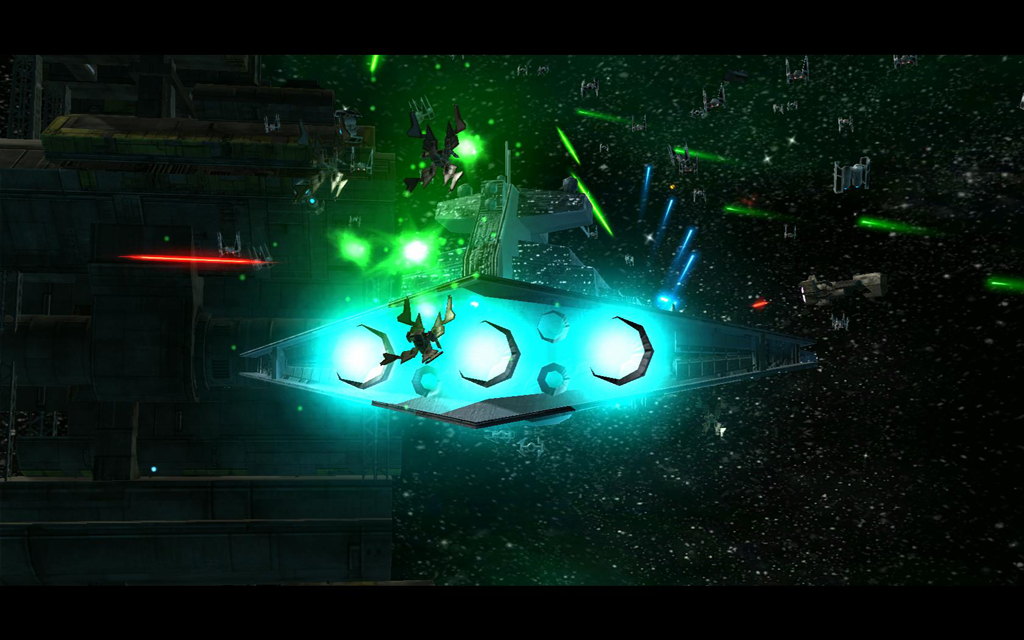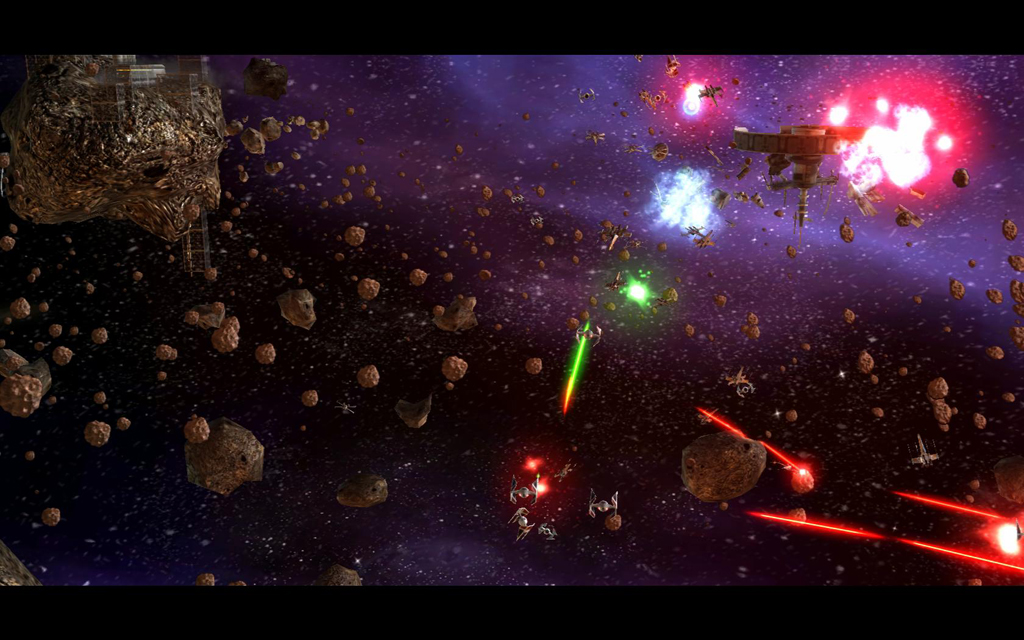 One of the last things Codeuser has done for FX are the engine glows with the lense flare-like effect.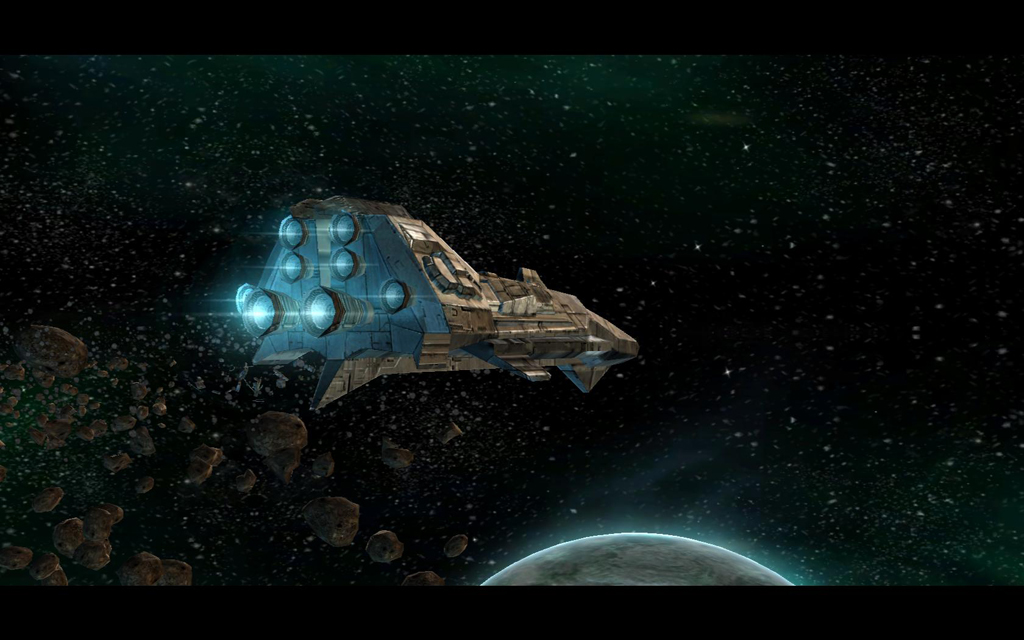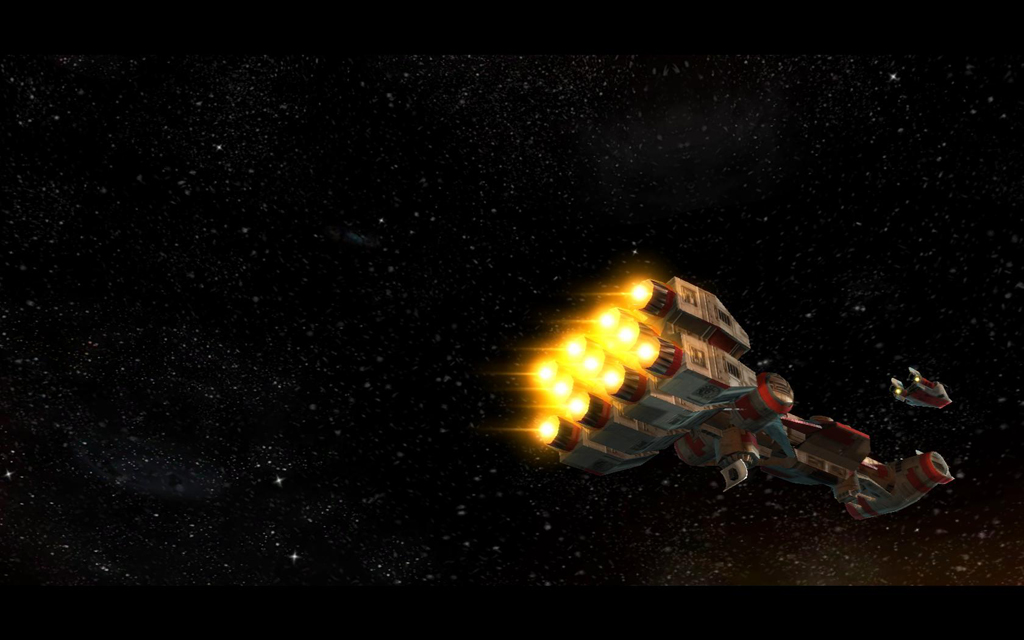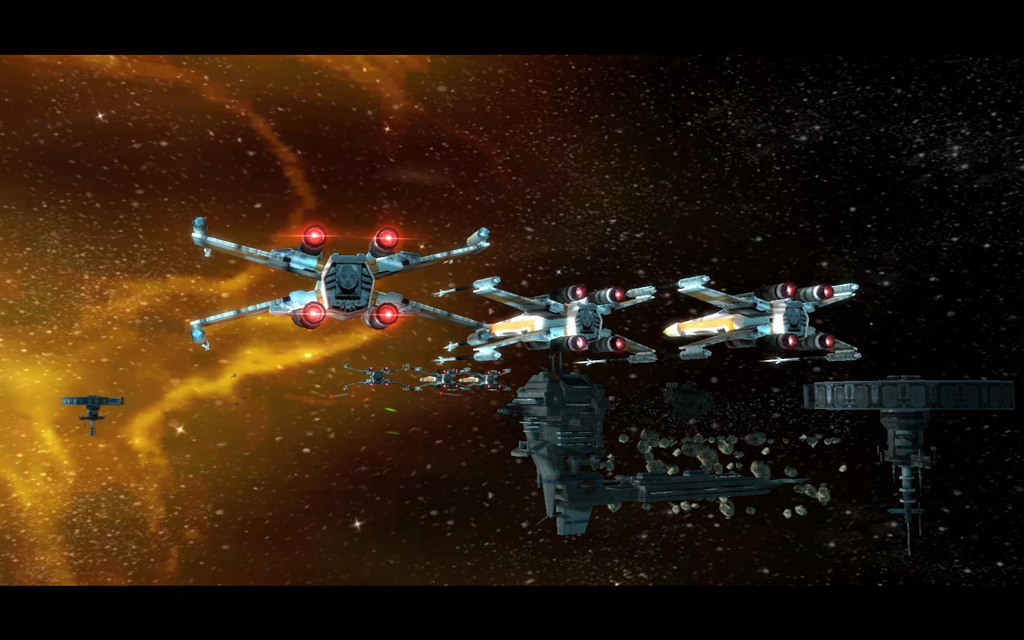 It's visible only when you zoom in - just as it should.
Other graphical changes include corrected nebula textures (thanks to dr_mccoy11 they're high-res), and brand new planets. Few examples of both: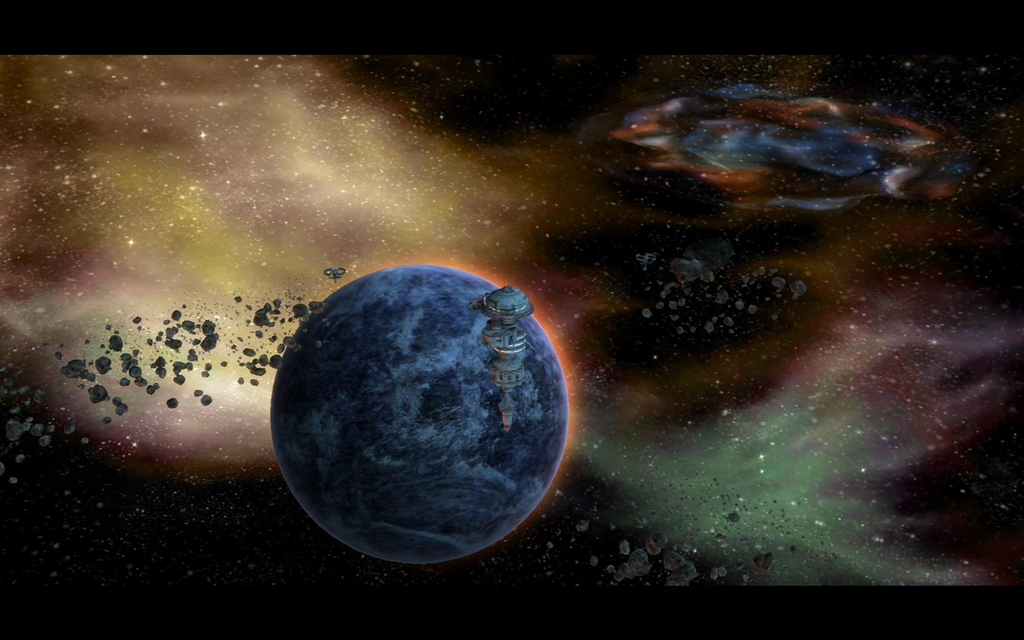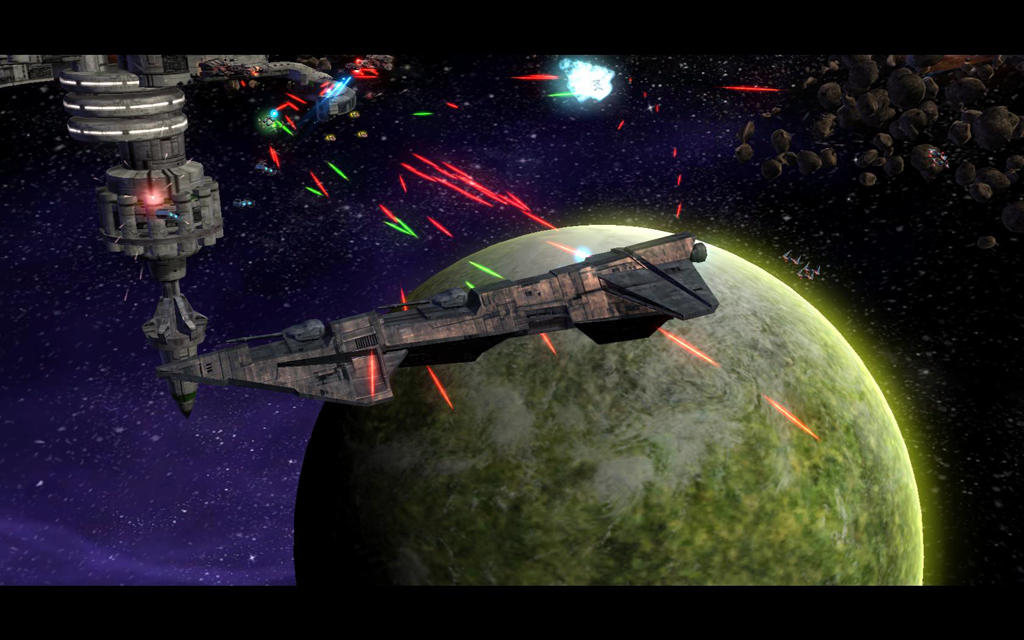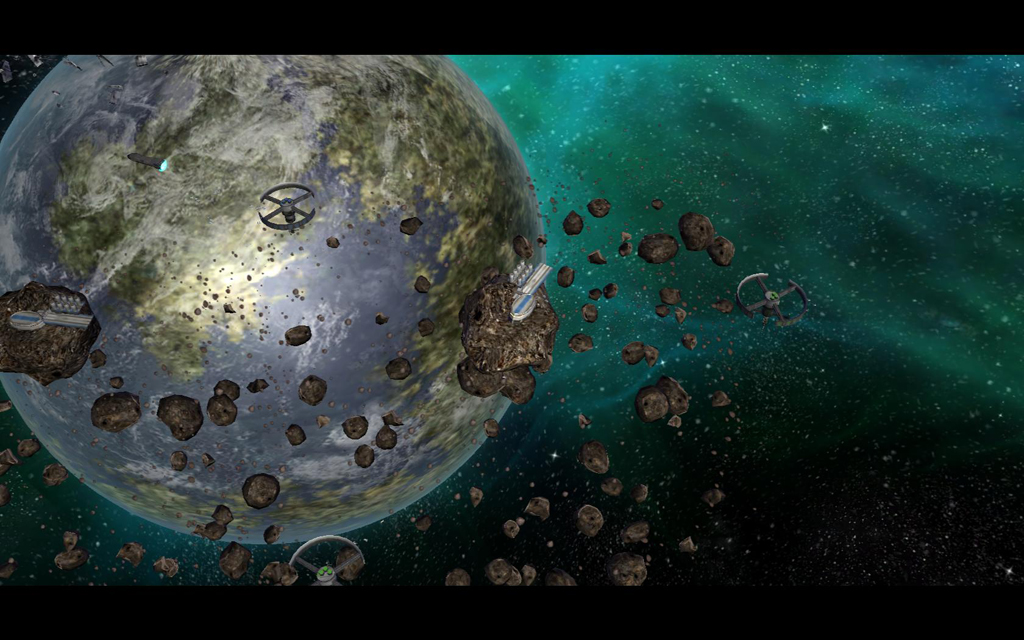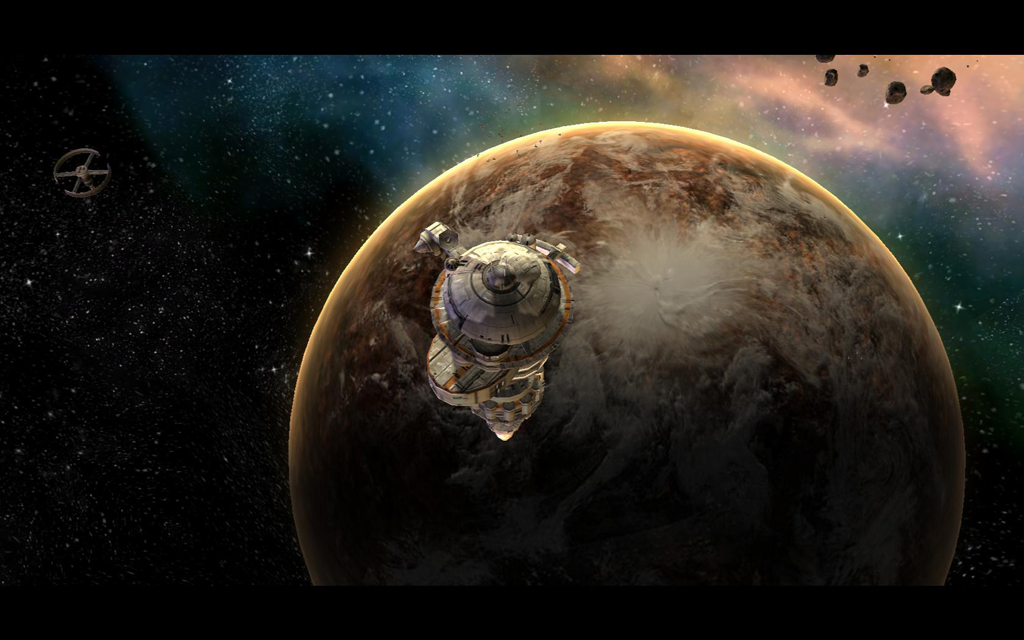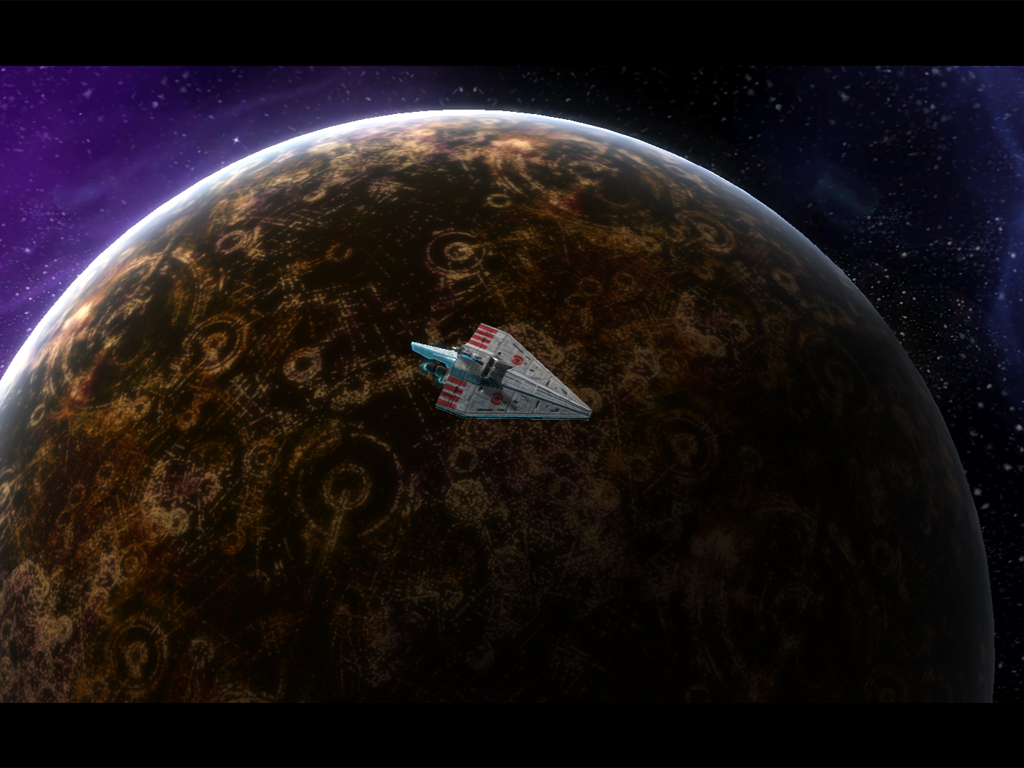 With most of the FX Mod's graphical aspect done, we could focus on the gameplay and units. Lots of new stuff and concepts will bring a fresh feeling to daily combat. Just sit back and enjoy the pics!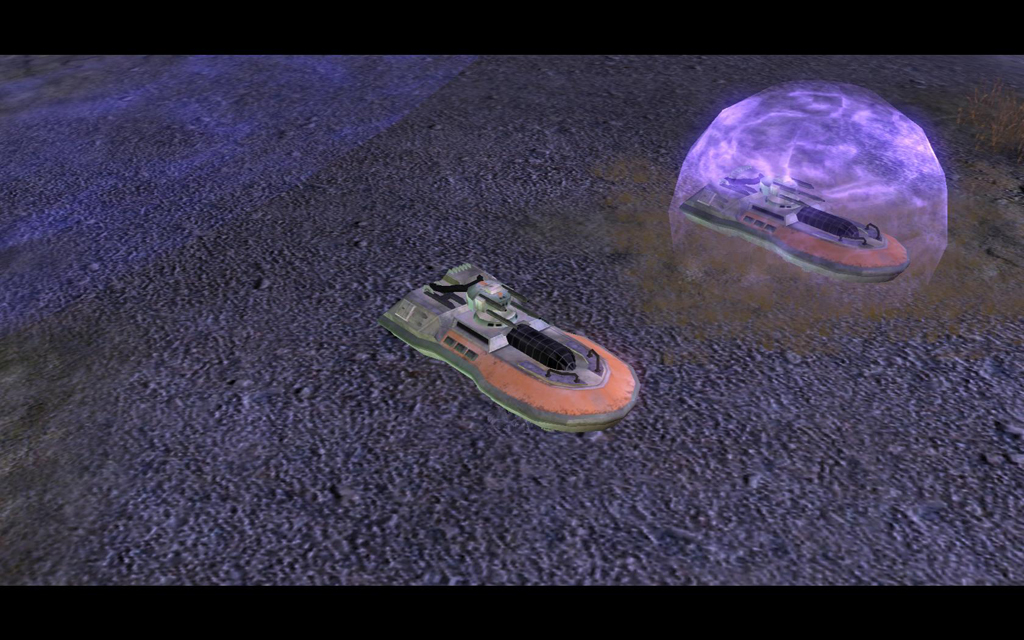 T-1b light tank.
This model is actually different from the design you're used to. What we wanted to do is to make it similar to T-2b, so it actually does look like its predecessor. The other thing is that now it looks like a light combat speeder rather than a tank - and that's its role in combat. It's equipped with an active shield generator, which means it has almost no shields but when the generator is activated it redirects energy creating the bubble-shaped shield. The ammount of energy needed to achieve such effect makes the vehicle stay in place, but it might be a key to survive an unexpected encounter with larger enemy forces.
Model, skin, rigging: Filo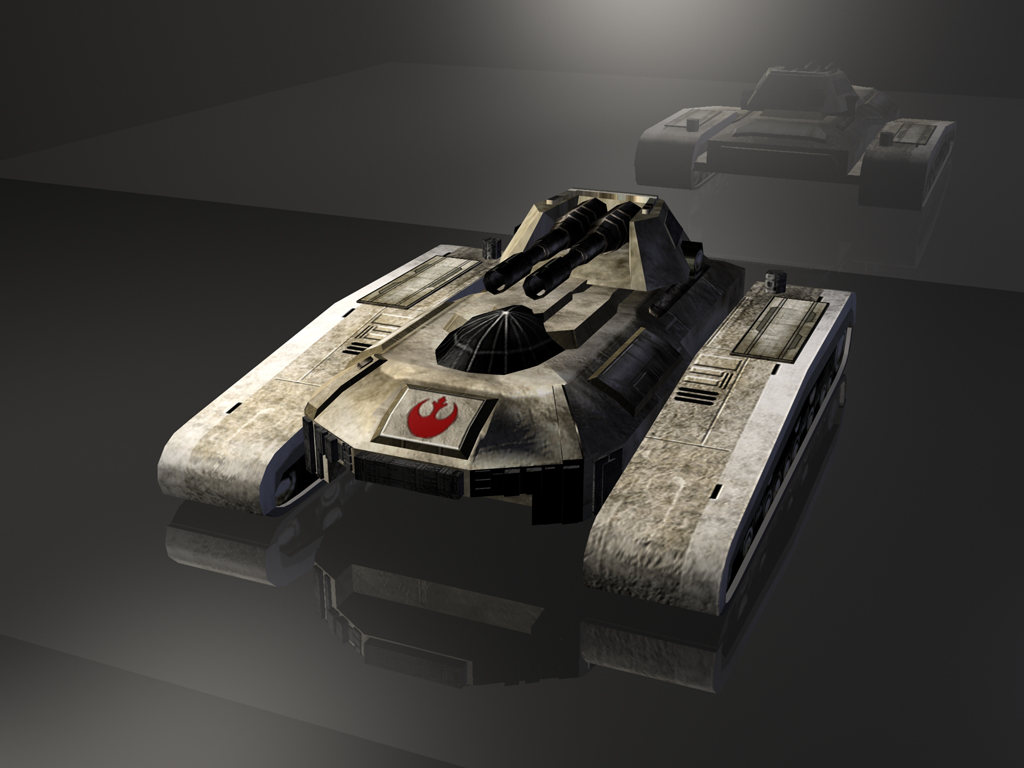 T-3b tank, courtesy of Thrawn's Revenge. The T-3b, instead of T-4b, is going to be the new core of Rebel armor forces.
The T-4b will be a special bonus unit, with much larger firepower.
Model: TR
Skin and rigging: Filo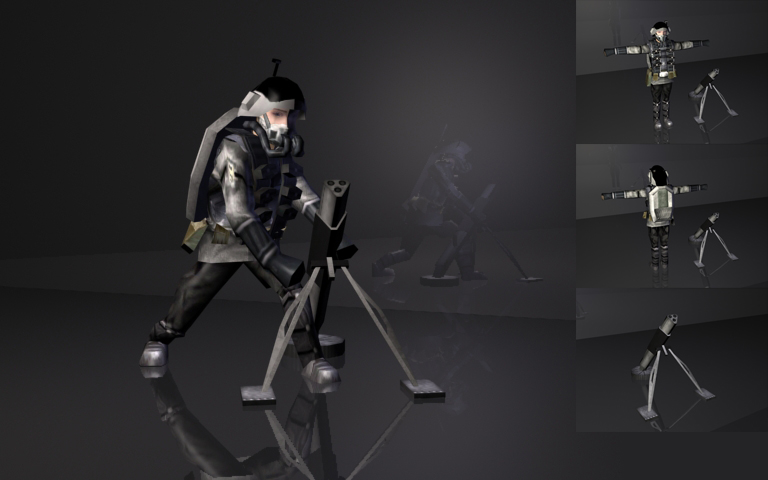 Rebel mortar team.
Two soldiers specifically trained in using the E-web concussion mortar, serve as the kind of micro-artillery on the battlefield. When you have to strike the enemy from larger distance, but the slow, heavy MPTL units can't reach right position - that's when mortar team comes into action. Even though they're an easy target, as the mortar is all they've got, they're incomparable when you must organize a sudden strike with a hail of concussion grenades.
Model, skin, rigging: Filo
They're being animated now, you're gonna see them in action soon!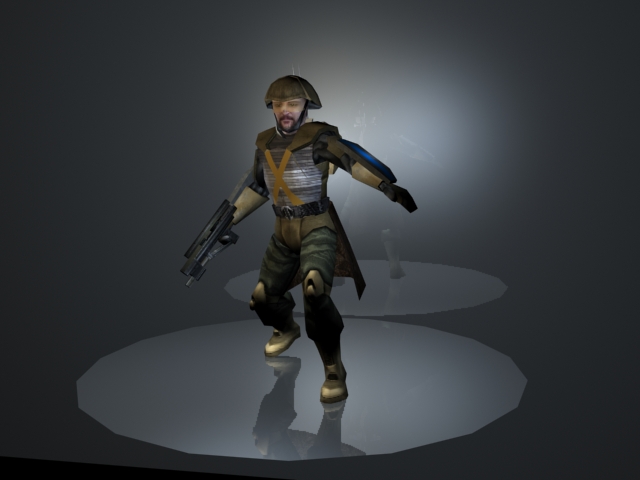 New hero: Judder Page
Lt. Judder Page of the elite SpecForce unit is one of the best in this profession the Alliance has seen. Defended with lightsaber-resistant arm-shields, he's not easy to defeat even for Force sensitive enemies. He leads the squad of 3 commandos.
Model, skin, rigging: Filo, Petroglyph
Asterocrator-class Star Destroyer - a combination of two Greek words that means "lord of the stars", describes that ship class pretty well. Transition between Venator and Imperator, shares features with both these SD classes. It will be a bonus unit in a merchant space dock in skirmish.
Actually though I mentioned "merchant space dock", it is no longer in-game. It has been replaced by Warb_Null's Republic starbase. You're going to see it in place of Pirate asteroid base as well.
The Acclamator-class in Imperial fleets has been replaced by Rendili Dreadnaught. Now Acclamator, Venator and Asterocrator are 3 ship classes available in skirmish for all 3 sides in Republic starbase. Also Carrack-class corvette has been put in place of Tartan cruiser.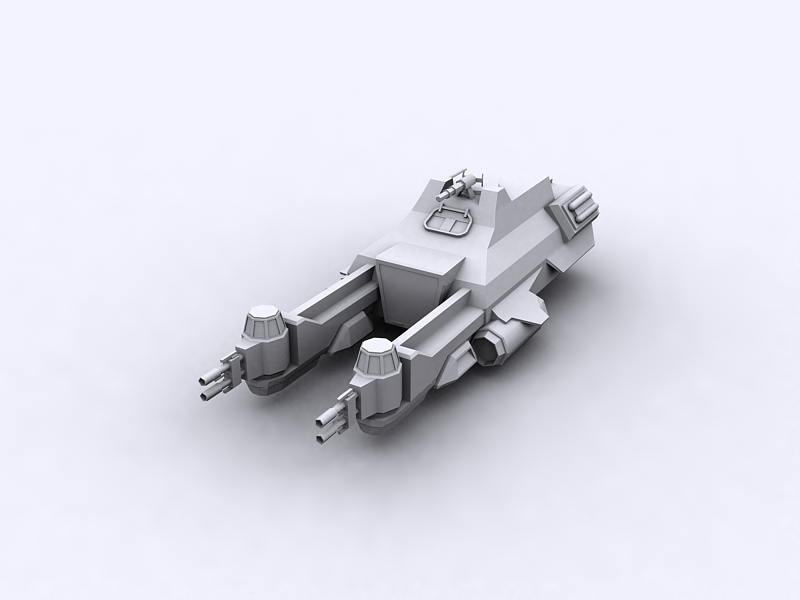 Imperial APC
For all those who hated Juggernaut for its slowness, poor armament and pointless role in combat. The APC is a new troop carrier for the Imperial forces. As a fast, hover vehicle, it can quickly deliver infantry squads wherever you need them. Its design featuring 2 side turrets ensures safety of the stormtroopers even after they come out. One dropship can bring 2 APCs onto the battlefield.
Model: Codeuser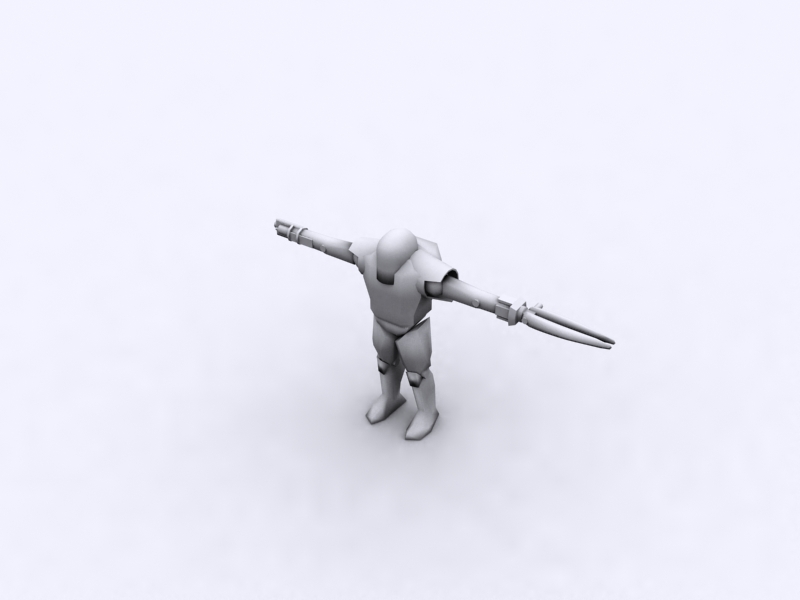 Galak Fyyar
Infamous scientist, inventor of the Shadow Armor is another hero for the Imperial faction. Using his invention in battle, he's heavily armed and well-protected by the cortosis surface and shield generator, similar to the one used by Droidekas. As an Admiral and commander of Doomgiver, he's got an ability to call an AT-RDP from his flagship.
Model: Filo
Both Fyyar and APC are currently being skinned by Kalo Shin!
Zann Consortium is our lowest priority but we try not to forget about it either. In last build new tanks were introduced. Now it's time for some infantry WIPs.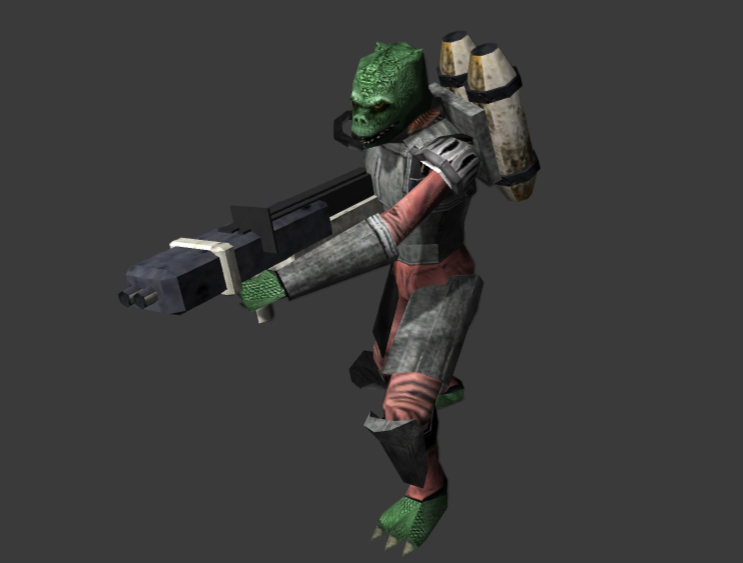 Trandoshan slaver - deadly reptilian hunters, infamous in the farthest worlds of Outer Rim. They carry Stouker heavy concussion rifles with 2 modes. The first mode launches a projectile which is weaker but causes destruction on large area - better against infantry. The second mode fires a beam which wipes its target from the face of earth, but it can be shot only at one target - powerful against vehicles.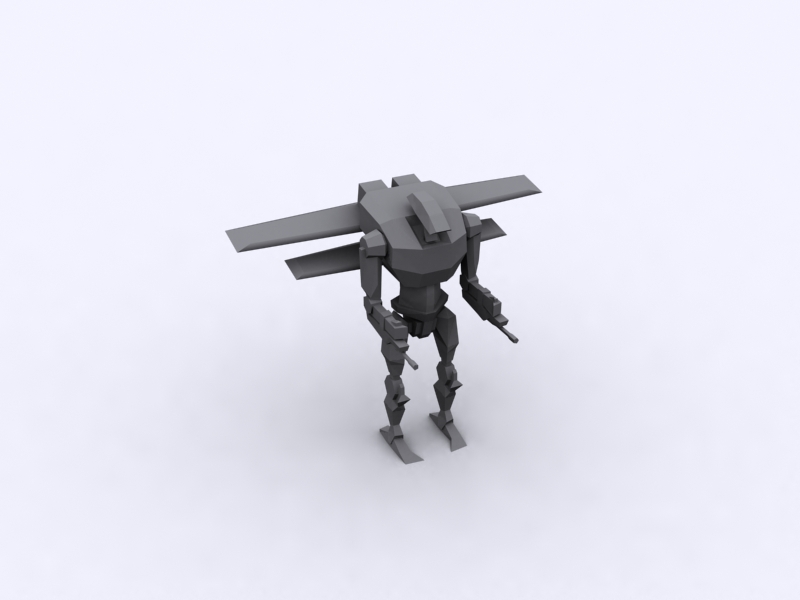 Air droid - Thanks to Alpha Omega Protocol, another piece of Confederate technology got into Zann's hands. Air droid can make fast jet-leaps to any place on map and are great for reconaissance.
Last but not least - because the man who's writing these words comes from Poland, this mod will be the first to be released in both English and Polish languages.

And that's it. Next update is going to be more focused on gameplay and will also reveal something very... huge.
In the name of the FX team,
FiloVanMewa