Progress, lots and lots of progress.
CHARACTER MENUS
All character icons have been completed, and the basic functionalities of the character menus have also been implemented. The tool for generating each menu works wonderfully, which will make it significantly easier for us to add new characters and edit existing ones. The descritpion text has also been edited slightly to allow more room for each character's story. The overall syntax of the menu has been re-written so that your alignment will not change, so you can freely change characters and still continue to fight the exact same enemies.
NEW CHARACTERS
Prior to Thanksgiving week, we opened up suggestions for new characters to add to the mod. The following is the complete list of new characters + model updates + faction updates. All new and updated characters have npcs:
THE OLD REPUBLIC
Republic Trooper (SWTOR)
Republic Soldier (KOTOR)
Jedi Knight Revan
Jedi Master Revan
THE SITH EMPIRE
Dark Jedi (Female)
Darth Caedus
Darth Revan (Model Update)
Revan Reborn (Model Update)
Darth Malak (Model Update)
Darth Nihilus (Model Update)
Darth Sion (Model Update)
Darth Sion (TFU)
Darth Traya (Model Update)
Lord Kaan
Sith Assassin (KOTOR II) (Model Update)
Sith Apprentice (KOTOR II) (Model Update)
Sith Master (KOTOR II) (Model Update)
A'sharad Hett (Model Update)
Darth Krayt (Model Update)
Sith Emperor Vitiate
Darth Zannah
GALACTIC REPUJBLIC
Captain Fordo
Siri Tachi
Anakin Skywalker (Child)
General Skywalker
General Kenobi
Mace Windu (Hood + TCW)
Queen Amidala
Serra Keto
Jocasta Nu
Jedi Brute
Jedi Temple Guard
Zabrak Jedi Knight
Gran Jedi Knight
Khil Jedi Knight
Aqualish Jedi Knight
SEPARATIST ALLIANCE
Aquatic Battle Droid
Aerial Battle Droid
Count Dooku (No Cape)
Darth Maul (Solo: A Star Wars Story)
Darth Maul (Rebels)
Droideka
General Grievous (Removed outdated model)
Savage Opress (Updated Model)
REBELLION
Rahm Kota (Updated models)
Corram Horn
Kyp Durron
Mara Jade (Updated models)
PROXY
Ben Skywalker
Jaina Solo
Jacen Solo
Anakin Solo
Galen Marek (Jedi Adventurer, Corellian Jacket, Jungle Combat, Medical, Bounty Hunter, Industrial Gear, Temple Exploration Gear)
Starkiller (Moved faction)
GALACTIC EMPIRE
Second Sister
Starkiller (Training Gear, Early Training Gear, Heavy Training Gear, Light Training Gear)
Doctor Aphra
Joruus C'Baoth
Lumiya
Purge Trooper
Shadow Guard
RESISTANCE
FIRST ORDER
Snoke (Model Update)
Praetorian Guard (Model Update)
Flametrooper
Sith Trooper
Sith Eternal Fleet Technician
BOUNTY HUNTERS
Boba Fett (Model + Sound Update)
Boba Fett (TCW)
C-21 Highsinger
CRIMINALS
EV-9D9
Vigo Morn (Moved from Rebellion)
CIVILIANS
Armored Kel'Dor (Renamed from Mustafarian)
HK-55
Nightsister Spirit
Northern Mustafarian
Southern Mustafarian
Pit Droid
Teer'aa (Easier identification)
Seer'aa (Easier identification)
MANDALORIANS
Mandalore the Ultimate
Jaster Mereel (Easier identification)
Montross (Easier identification)
INFINITIES
2 characters are spoilers from Darth Maul's extended ending
Darth Maul (Sith Master)
Qui-Gon Jinn (Old Man + Force Ghost)
Dark Starkiller Clone (Default + Jedi Hunter)
Lord Starkiller (Default + Tatooine)
Sith Stalker
Cybernetic Reconstruction
Darth Sidious (Crazed)
Galen Marek (Ceremonial Jedi, General, Hooded Combat Gear, Sith Assassin, Utility Gear)
DARTH MAUL'S EXTENDED ENDING
As most of this month was spent on adding characters, little progress was made on Darth Maul's extended ending. New cutscenes have been created as well as some additional voice work necessary to tell the intended story. I unfortunately cannot show much as development from this point forward are major spoilers. However, please enjoy this cutscene:
JEDI OUTCAST
A common bug with Jedi Outcast has been fixed. You will now spawn as Kyle every single time. The objectives are also properly implemented, so you can view the needed information. Additionally, the correct title crawl for Jedi Outcast will properly play. Please remember that we are NOT distributing Jedi Outcast for free and you must have purchased a legal copy of the game in order to access Jedi Outcast through Galactic Legacy.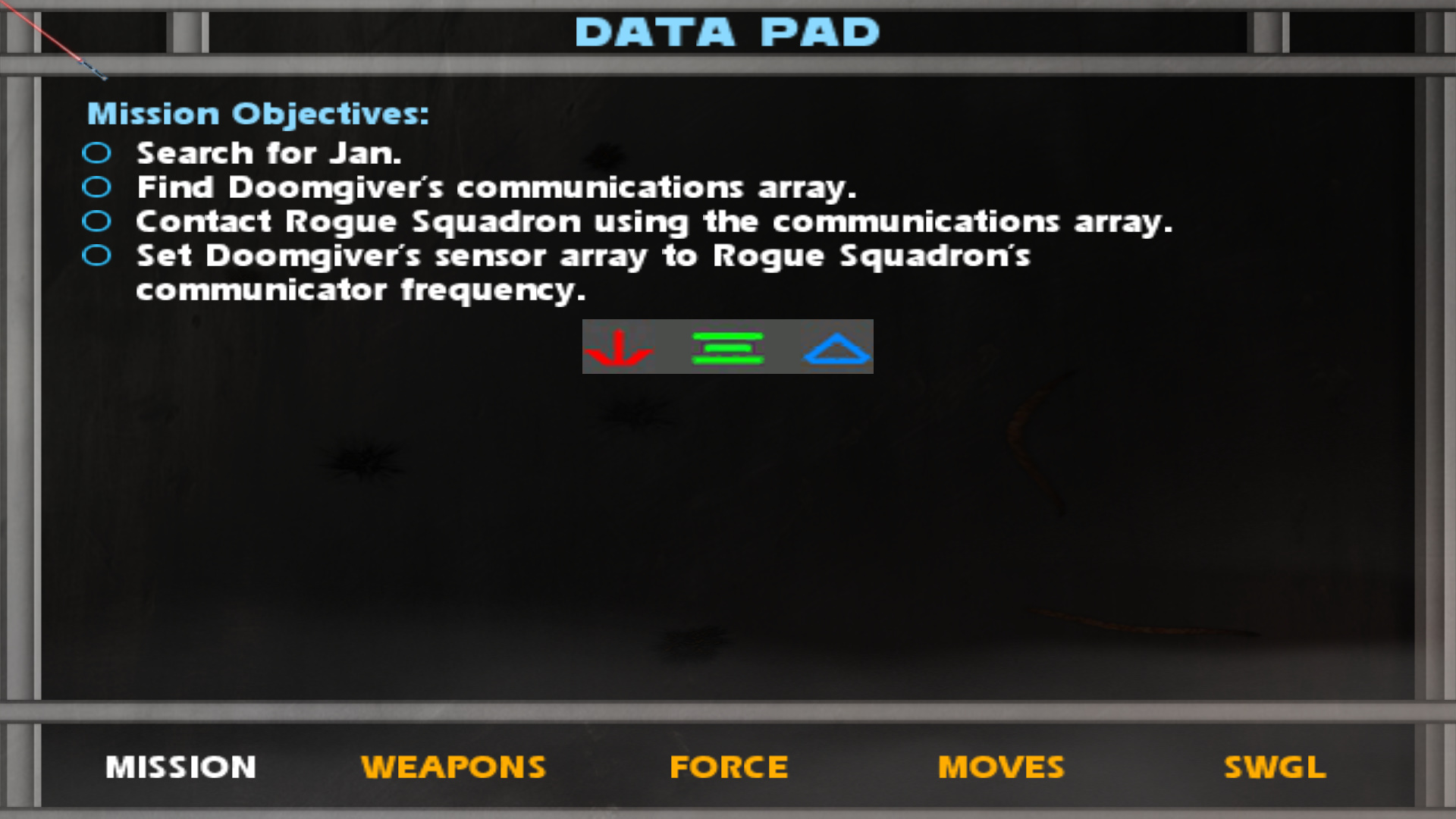 POSSIBLE RELEASE DATE
Please note that this isn't final and can change. Given what there is left to do and how rapidly we are completing the required tasks, we feel that there is a strong possibility that we can release the mod on Friday, December 18th, 2020. Again, please note that this is NOT FINAL and can change at any time.
Thank you for following the development of Star Wars: Galactic Legacy, and may the Force be with you.