A summary of recent work activity related to the mod in development:
- initial hp sculpt/spotlight polypainting complete on hog_adult_male
- hog_adult_male lp model unwrapped
- hog_adult_male hp detail baked to hog_adult_male lp model
- initial hog_adult_male normal/diffuse textures completed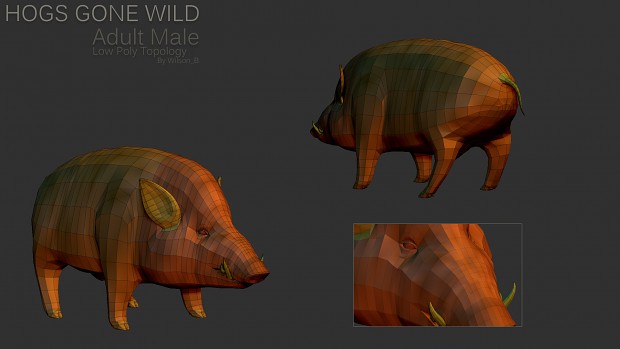 Will be finishing up work on the specular map today for the hog_adult_male mesh. I will also be creating hair w/ alpha channel texture to be distributed over planes on mesh to give the hog that nice "hairy" look. Some more edge loops are to be added to the hog_adult_male hindquarters in order to provide more optimal topology for animation purposes. More complementary maps such as cavity/ao maps to be added to the diffuse texture today as well.
Wilson_B