Well, it is what 2 weeks late now? Lol, yeah I know i wanted to release that weekend as well. Here is the skinny:
Gundam was slated for an untested release about 2 weeks ago, moddb/indiedb was down most of that day. So, I had a few guys doing some play testing(thanks Dorne and Coresair). Imbalances have been addressed and it will not be as imbalanced as it would have been had I released that saturday. Which is great and those two found some annoying bugs.
2 bugs were found and have as of right now been fixed
Magella top spawning on magella research completion

Group limit circumvented by having several factories build the limited unit at once.
Well those were jotted down but I still felt something more was needed and since I had recently updated Gundam RTS to include the Chilli framework by JK I decided to see about pulling in some of the example widgets and include them with gundam. So gundam now has the following:
Cleaner chat with some mild anti-spam(will show 2x for something that repeats twice)
Minimap
Cursor tip, which will show unit details when you leave your cursor over a unit.
Context menu, when you mouse over a unit and hit space+click you will get more detailed unit stats!
Volume control for music and general volume(W.I.P.)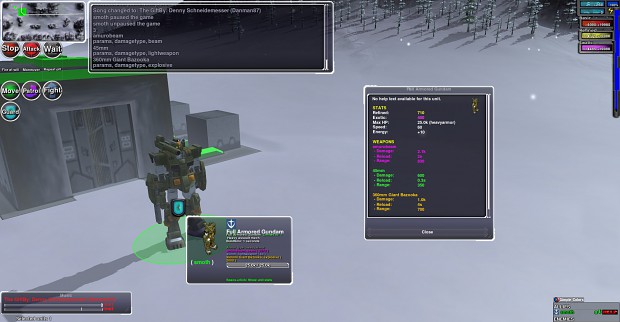 I feel that the detailed information will help you guys to get a better understanding of your units, the new damage system and what the unit is capable of. I am still populating these boxes with more detail but wanted to share where I am at on it.

Engine issues
The real monster holding up the release. All my optional stuff I am doing is because I have the time. See the 82.whatever release broke the old gundam where it will not show up in the spring engine. That was an easy fix but this next bit is beyond my control. Somewhere somehow the pathing in the game and unit behaviors were goofed.
Now, I know some of you are going to hate on the engine devs for this. I want you to realize that it is an honest mistake that was made and look these guys do good work. So please do not be angry at the dev(s) who broke pathing/unit behavior.
So what was broken? well outside of general pathing issues, units are snaking: here is a video: Smoth.net
This has been fixed but not officially released which may be another week or two.
So what now?
Until then I am using the extra time to add more unit details to the info popups so you guys can get some cool info on your units and possibly have an easier time learning things. I am redoing the site and forums again, I found Wordpress to not meet my needs. So until next time know that I am still working and still moving along. I will hopefully see some relief in the next couple of weeks with a release and a better site