It has been about 4 months since the last news update. But believe me, we have worked really hard these months and we achieved more than we expected. Anyway, we promise you that from now on we'll update this page more often. So let's move on to the progress part:
Exteriors
We have several regions in the works right now. Valyndimir did a great job landscaping Tolfalas which now only needs to be tested, Large Jack is working on Mirkwood again as we thought it needed some changes to the landscape and Noirdesir is putting the final touches on Harondor and Fangorn! Then we have the Falls of Rauros and Emyn Muil which, apart from a little incident, they are progressing nicely. These two areas are developed by Aoikani who has captured successfully the feeling these regions should give to the player. Here are two pictures of them.
Work has also started on the Grey Havens! We have some pretty nice buildings already by MathewHo and Awia and a plan of the city which will accelerate things a lot! Images of the city will be shown in later updates so keep tracking! ;)

Interiors
Bree is progressing steadily. What is new is that work has started on Annuminas with the Underground Complex and the Library being developed by Tryadelion and Cidmodder respectively. And last but not least, the Paths of the Dead! Unbekannter has done an amazing work on this so far and this trailer shows a part of his work:

Visual Development
Oh i think you are gonna love this! Theoden's armor made by Justb: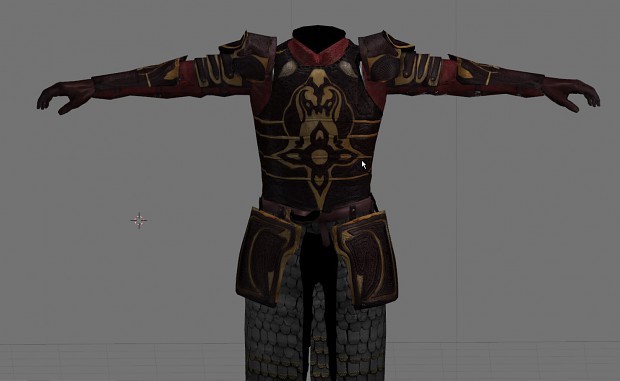 So that's the progress of May! Now let's move on to the trailer and some more info!
Upcoming Trailer
A new trailer is in the works! It should be out in 2 weeks or so! It will be kind of a cinematic one which will also let you listen to some several new music tracks! It's being developed by Thomse who is responsible for the video and Abbottaerospace who puts in the audio! I'm sure the outcome will amaze you all and will excite you as the trailer serves as an announcement too, but I won't tell you for what yet ;).
The last thing I want to say is that we are sorry for all this mess with the downloading mirrors and stuff! A new installer is coming soon which will solve this problem forever! But for now for downloading and installing instructions follow this TUTORIAL
Don't forget to visit:
Our official website for images,
our Dev forums if you want to contact us or you need any help and
our new YouTube Channel
If you want to apply for MERP post an application HERE
Any ideas and suggestions are always welcome!
So that's it folks! We hope you enjoy playing MERP! It's getting better and better every day! Thanks for all your support! Until next time ;)