Lately I've been adding functions to the game such as add item to player and also fixing some bugs that I've found like the axe you could cut a tree even if you were 9999 yards away.
I've also added Mining! Mining is a kinda important skill since it is needed by other skills. Such as Woodcutting but Mining is much more important since with the ore you can make weapons and other stuff.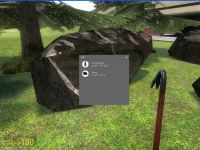 Mining at Skill menu
For now I'll add Copper veins that when mined gives copper ore and with that ore you will be able to make copper stuff with Blacksmithing skill. Probably ore will have other uses in future such as searching for precious gems or something else.
Oh, I also want to leave my XFire contact in case you want to help in mapping, modeling (need this one :p, for trees, weapons, veins...).
XFire: JPiolho
Note, add in description the word: Midage, that way I know what you want :)