Hello folks,
it's been a while since the last News post. But I have great news for ya! I almost finished the mod expect for 2 maps (with finished I mean only the republic side).
On Tatooine I already got the legion for Mos Eisley, but there are still Jaba's Palace and Tantive IV missing. The team is basically (with minor exceptions on a few maps) set up like this:
Clone Trooper (DC-15s Carbine, DC-17 Blaster Pistol, 3x Droidcracker, 2x Small Medipack)
Heavy Trooper (DC-15a Rifle, either RPS-6 or PLX-1, 3x Mines, 1x Stationary Turret)
Clone Sniper (E-11s Sniper, DC-17 Blaster Pistol, 3x Droidcracker, 1x Autoturret)
Clone Engineer (M-30 Shotgun, Fusioncutter, 2x Detonationpack, Healthbuff)
Special Trooper (Z-6 Rotary, DC-17 Blaster Pistol, 3x Thermaldetonator, 1x Shield Dispenser)
Jet Trooper (DC-15s Carbine, EMP-Launcher, 3x Thermaldetonator, 2x Crackgrenade)
Captain/Sergeant (DC-17 Repeater, DC-15a Rifle, 4x Sonicgrenade, 1x Remotedroid)
Commander (DC-15s Advanced, DC-15a Rifle, 2x Plasmadetonator, 3x Impactgrenade)
So, that's it from the unit setup in the first place :) Next we're coming to planets and clone legions. Most of the work is fixed and I'm barely willing to change anything now, but there are still some optimizations to do.
Coruscant: 501st Legion (Cpt Rex, Com Appo)
Kashyyyk: 41st Elite/9th Assault Corps (Com Fixer, Com Gree)
Mygeeto: 5th Sector Galactic Marines (Com Sev, Com Bacara)
Yavin IV: 91st Reconnaissance Corps (Cpt Fordo, Com Neyo)
Felucia: 327th Star Corps (Com Deviss, Com Bly)
Utapau: 212nd Attack Batallion (N/A, Com Cody)
Mustafar: 63rd Republican Guards (Com Fox, Com Thire)
Kamino: Homeworld Security (ARC Fives, Com)
Death Star: Rebel Katarn (Rianna Saren, Com)
Polis Massa: 41st Elite Legion (Com Scorch, Com Wolffe)
Geonosis: GAR (Cpt Tyto, Com Ponds)
Dagobah: 182nd Legion (Cpt Prudii, Cpt Marrt)
Mos Eisley: 442nd Siege Batallion (N/A, N/A)
Naboo: N/A
Jabbas Palace: N/A
Tantive IV: N/A
Wow, was more to write than I thought ;) As you can see I haven't found suitable legions nor commanders for some of the maps. Suggestions are much appreciated! I made the list above only for conquest mode yet, but I want to apply it to all the other gamemodes too. Since a lot of people were asking if this will influence campaign or galactic conquest: I won't be touching anything in campaign mode but I'm not sure about galactic con ;)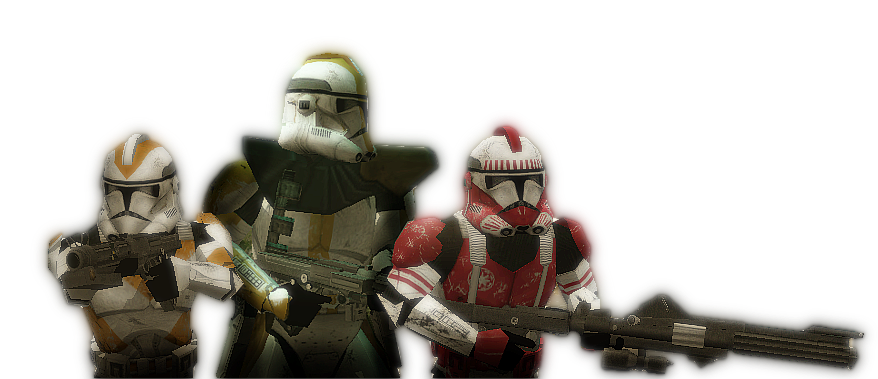 Anyhow thanks for taking the time to reading this whole article (it has to be the longest ever since...) Stay tuned for more information!
-Benoz