If you pledge $20 or more on IndieGoGo, you will receive all DLC for Q.U.A.D up to a week early! If you pledge $30 or more, you'll receive a free copy of Q.U.A.D!
---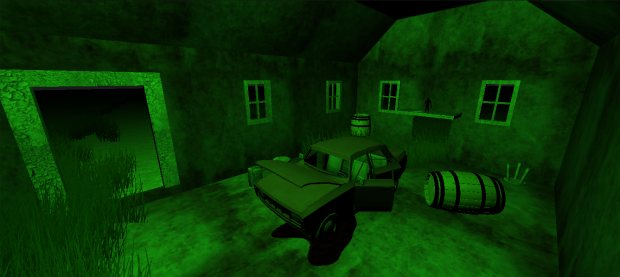 ALPHA 2 has finally been released! You can download it by going to the Downloads tab. I've spent some more time working on the Static Night Vision Camera System. This system will give the players to option to toggle between different cameras around the level and see if they can capture any paranormal activity while staying in one place. Above is a screenshot of the SNVC System, capturing what is going on in the Garage(before I finished redoing it). I'm sure everyone will love this feature as much as I will. I have a lot of cool plans for scares, and a I'm working on getting them in on ALPHA 3. And just for an FYI, the barrels are your worst enemy. I've also redone the Storage Room and now it's the Garage. I fixed added a few more scares in here other than the first one. I've added notes to the Garage and Motel(Yes, it is a motel). I finally fixed the infamous "flying" bug where player were catapulted into the air when trying to move over an object such as the stairs.
A Linux version of Q.U.A.D will be released on launch! There will also be Linux version of the ALPHAs released along with the Windows and Mac versions. Fund IndieGoGo to get the Linux versions updated often. We plan to release ALPHA 2 for all three OS.
---
Changelog:
Added footstep, ambiance, and other sounds for a realistic environment.
Fixed noclipping bug.
Added Flashlight Battery System and UI.
Fixed mesh renderers for apparitions(They are only visible when triggered).
Added random noises(A noise such as knocking, footsteps, banging, etc. will play randomly).
Added headbobber for realistic walking.
Added settings menu.
Removed jumping(To avoid players leaving the map).
Changed a few controls.
Added black X(Keeping quiet about it...)
Added strange voices.
Added weather sounds(Thunder, wind, etc.)
Fixed walking speed.
Linux version announced
Removed settings menu from ALPHAs due to lag
Added more dynamic hauntings
ALPHA 2 released!
Added room names
Fixed stair bug
Added Static Night Vision Camera System
Added barrel scares
Reworked the Storage Room into Garage
Fixed control issues
Added car scare. Yep. Doesn't seem scary, or does it?
More backstory added
Don't take the car...
Added burial site scare
Added black X scare
Tweaked note system
Working on randomized scare locations, so you won't expect the same scare always in the same place
More apparition scares
---
I plan to release the game sometime in mid 2013. If it gets finished before then, I might release it earlier. When the game gets finished depends very heavily on your feedback from playing the ALPHAs, so please download, play, and comment your feedback on them! Thanks!
We've started our IndieGoGo campaign with our goal of $2000! Let's make it happen! A pledge of at least $20 will get your all FREE DLC for Q.U.A.D up to a week earlier than non-pledgers! A pledge of $30 will get you a free copy of Q.U.A.D when it's released! A pledge of $60 will get you up to 2 copies of Q.U.A.D for 60% off to give to a few friends(THIS OFFER IS ONLY VALID THROUGH DECEMBER 24th, AFTER THAT IT IS ONLY 30% OFF)! Spread the word!
HELP ME RAISE MONEY FOR Q.U.A.D: Indiegogo.com
The IndieGoGo project will help fund the game's development, production, publishing, and more to improve your enjoyment of the game. I intend to release Q.U.A.D on Desura, but I can't do it without you guys and gals help! Thank you all so much! Thanks for all the feedback, it makes developing this game worth it!
---
DOWNLOAD ALPHA 2 NOW!

Windows:

Mac:

Linux:

---
Follow our blog to get updates as soon as they happen!

Help us rise in popularity!

Follow us on Twitter!