Posted in Graphics | Mar 19, 2013 | by Phil­ipp Schürz
Finally, the long over­due Cha­rac­ter rede­sign has begun: Our prot­ago­nist – the "young man" – is get­ting a major over­haul. But it's a long pro­cess until the new cha­rac­ter is fully inte­gra­ted in the game. I would like to walk you through some of the steps, from an artist's perspective.
It all starts with a dis­cus­sion about what should be chan­ged, why, how and when. This part can take a while and requi­res a sub­stan­tial amount of energy.
Then the con­cept making begins. I put down some really quick sket­ches, just so there is some­thing visual we could talk about.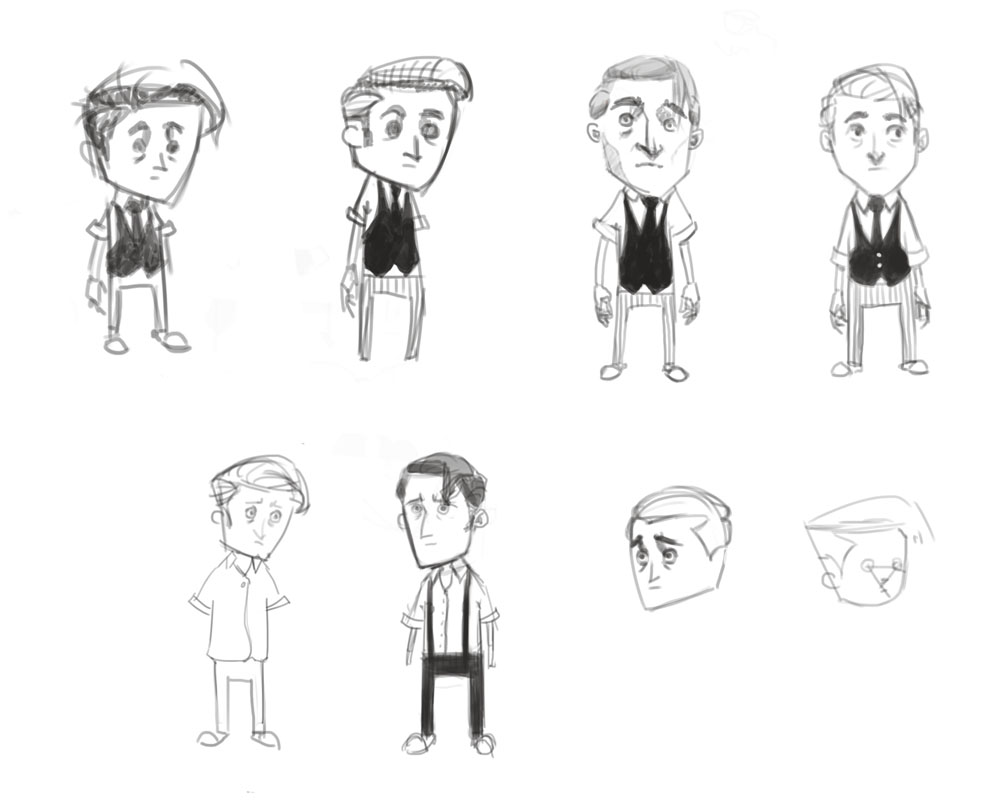 Now the second round of dis­cus­sions starts. Ide­ally by this time the basic points are sett­led and I can start mode­ling. Mode­ling is one of the sta­ges where I can usually relax a bit. The major design deci­si­ons have been made and the rest is just pus­hing and pul­ling at edge­loops and shouting at the soft­ware, until it does what I want.
After that comes UV-mapping, which is the pro­cess of unrol­ling the 3D sur­face of the model to a flat 2D tex­ture, so you can paint on it in any old pixel based soft­ware like Pho­to­shop. Now I use the UV-Template and paint the tex­ture onto it.
While I'm doing that, I hand over the model to our talen­ted animator/level designer/project mana­ger. And boy, am I glad that he does the ani­ma­tion, because that's a load of work.

During most of this pro­cess, there are still chan­ges being made. When the model is done, for example, we have ano­ther mee­ting to get con­sen­sus on the final model. When I am pain­ting the tex­tures, we have mee­tings for that, to see if ever­y­body is onboard with the direc­tion I am going.
You see, we are working in a pretty demo­cra­tic fashion. We don't have that many mee­tings for ever­y­thing we do, but the main cha­rac­ter is after all a pretty import­ant part of the game, so every opi­nion counts.
What's are your thoughts on this matter?