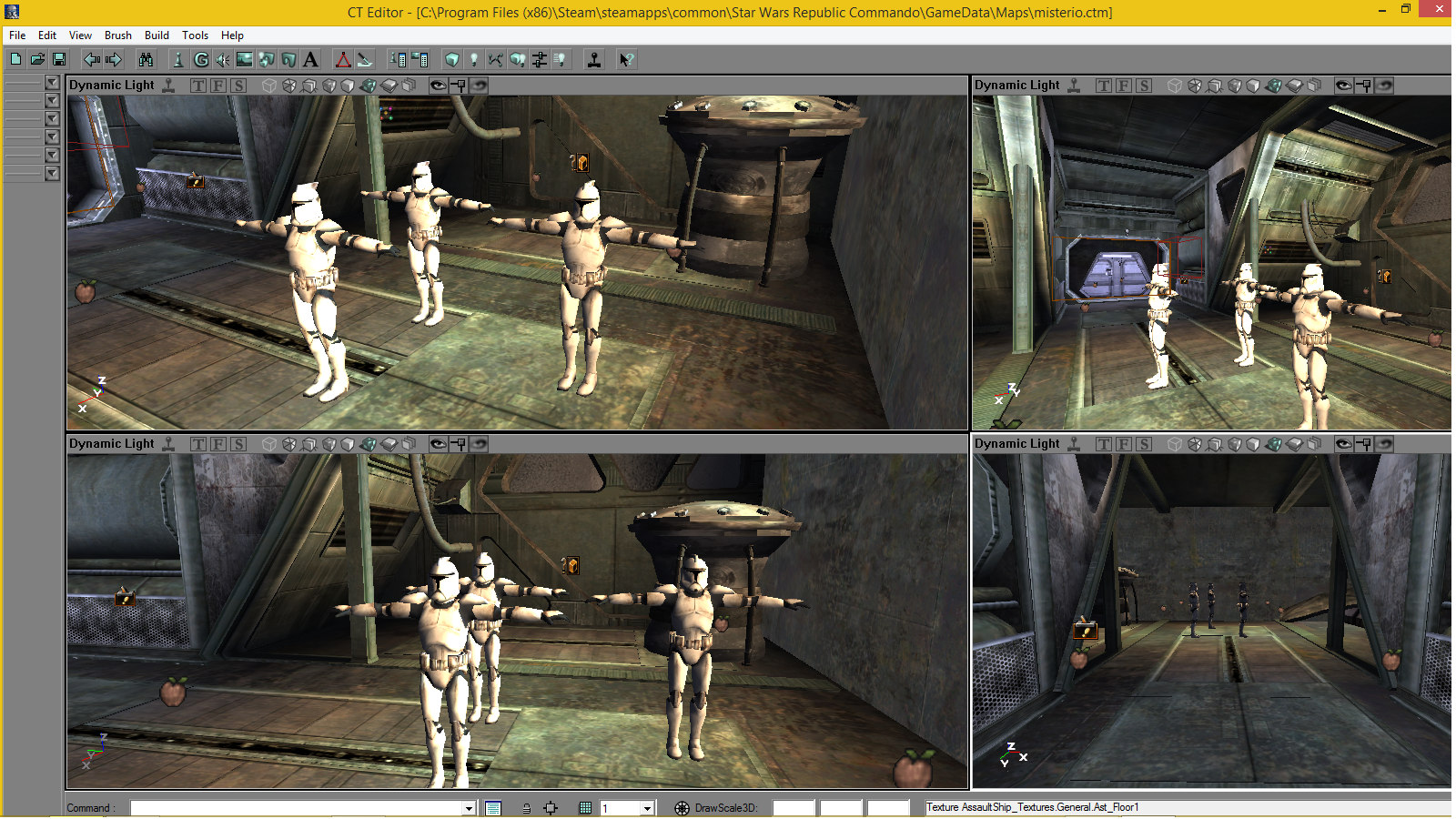 Star Wars Republic Commando MOD. Novedades: (Español)
El Mod Incluirá cambios en texturas Ejemplo 62/SIXTY TWO, 40/FOURTY 07/SEV.
Cambios en las voces de algunos soldados. (Recién empezado)
Este parte del MOD empieza en la nave "RAS" desde la segunda fase.
Se agregaron 3 personajes nuevos: 14/FOURTEEN, 4/FOUR y 72/SEVENTYTWO
Star Wars Republic Commando MOD: Errores
No mueven su cuerpo hasta que hagan una acción. (Reparación en proceso)
Les falta equipamiento (Reparación en proceso) (Desconozco la causa por ahora)
Las únicas ordenes que siguen son Formación y Asegurar el área. pero no siguen la orden Buscar y destruir (Reparación en proceso)
Primer nivel esta terminado un 70%
No tengo todavía una fecha para cuando este terminado la primera versión de todo el primer Mod.
Saludos
---
Star Wars Republic Commando MOD News: (English)
MOD Includes changes in textures Example SIXTY TWO, SEV and FORTY.
Changes in the voices of some soldiers. (I just started)
This part of the MOD starts on the "RAS" map of the second phase.
Added 3 new soldiers: 14 / FOURTEEN, 4 / FOUR AND 72 / SEVENTH-TWO
Command of the Republic of Star Wars MOD: Mistakes
The soldiers do not move until they make an action. (Repair in progress)
Lack of armament (repair in progress) (I do not know the cause for now)
The only orders that follow are Follow the leader and Secure the area. But do not follow the search and destruction (repair in progress)
---
The first level is completed 70%
I still do not have a date for when the first version of the first Mod finished.
regards.