As already anounced in some forum topics, the next patch 3.0.6 will feature a lot of changes and new features, like the Veteran Vessels. I want to present you a few of those inovations today.
A major problem in the past was the scaling of subsystem disabling weaponry. A disabled weaponsystem on a Borg Cube is far more fatal then on a Saber Class. To counter that problem we extended the system value to give a vessel resistences against such effects. Both the duration and the chance of being affected are reduced. In addition you will find new resistence effects added to the Borg Regeneration module.
Another change you might notice is a change in many weapons is their ability to fire bursts instead of single shots. While thats basically eyecandy used for the Quantum Torpedoes and Klingon disruptors, it has become a gameplay feature for the Romulans. All Romulan vessels will now fire much faster at the beginning of a battle, but slowly get higher reload times while the battle lasts on. Once a vessel remains out of fight for 15 seconds, the effect is refreshed. This change should underline Romulan hit and run character and encourage players to use traps and nastry strategies.
Of course such gameplay changes are not the only new stuff. You will find a few new models for old stuff, like in the past patches. The Ambassador Class is also ready for Federation Warp-In now.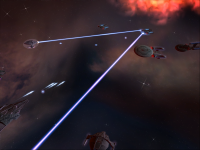 As promised, another sneak peak of Veteran Vessels. The Romulan Rhienn Class gains a refined cloaking technology, allowing Veteran Rhienns to strike at their victims while cloaked!