PRESTIGE SCROLLS
For a long time, transfers of Prestige between accounts have either had to go via the Alliance prestige pool or using sitting rights. With sitting rights, one player would give rights to an account, and the sitter would then buy the Prestige and step out of the account. This has led to some players reportedly being scammed ("I didn't receive the gold they promised!") or - illegal according to the TOS - players swapping sign-in and password information.
Now prestige scan be transferred directly to anyone or sold on the open market at a trade hub, by using prestige scrolls. Let's say that player A wants to give the new player B some prestige to help them along.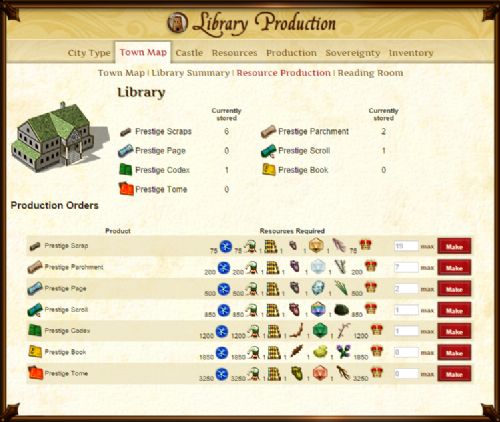 All player A needs to do is go into their Library's new Resource Production area, make sure to have the correct amount of Prestige, books, mana, research and reagents and click Make - player A now instantly has a Prestige scroll that can be given or sold to player B. Player B then redeems the scroll in their Reading Room.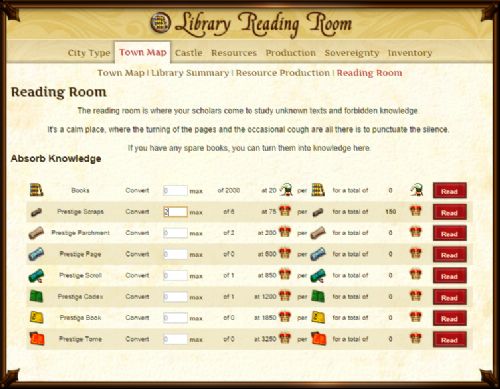 Be aware that items in transit, including prestige scrolls, are vulnerable to blockade, so be careful when shipping these valuable new items.
The Prestige Scroll recipes are as follows:
Prestige Scrap: 75 Prestige, 75 Mana, 75 Research, 1 Giant Rat Heart, 1 Pyrestone, 1 Sharproot
Prestige Parchment: 200 Prestige, 200 Mana, 200 Research, 1 Wild Dog Heart, 1 Claristrine, 1 Silverthorn
Prestige Page: 500 Prestige, 500 Mana, 500 Research, 1 Wolf Heart, 1 Deepsilver, 1 Furzion Seedpod
Prestige Scroll: 850 Prestige, 850 Mana, 850 Research, 1 Brown Bear Heart, 1 Rainbowstone, 1 Brownback Moss
Prestige Codex: 1200 Prestige, 1200 Mana, 1200 Research, 1 Giant Scuttler Heart, 1 Trove, 1 Suntree Haft
Prestige Book: 1850 Prestige, 1850 Mana, 1850 Research, 1 Scritcher Heart, 1 Svelaugh Sand, 1 Vistrok Flower
Prestige Tome: 3250 Prestige, 3250 Mana, 3250 Research, 1 Scaled Charger Heart, 1 Earthblood, 1 Ironstem Root
Prestige scrolls are regular items and will show in your towns' and hub inventories. They can be placed in hub buy and sell orders as regular craftable items, and appear in the "Exotic" category. Prestige scrolls can only be created from personal prestige, not from alliance prestige. The creation and use of prestige scrolls is recorded and is shown on your prestige history page.

SERVER-SIDE MONITORING & DIAGNOSTICS
We have improved our server-side monitoring and diagnostics so we can be aware of a problem and try to fix it before you are aware. It also provides rich information and extra detail around issues to allow us to more quickly diagnose potential issues. We have already resolved a number of long term issues this way.
Sharing some insights, below is a graph around the time the Heart of Corruption began beating. The early response time peak is a deployment for improved Windows 8.1 support (do feel free to vote for us in the store!) which required a full server code refresh and so a brief response time hit as the dlls were jit compiled: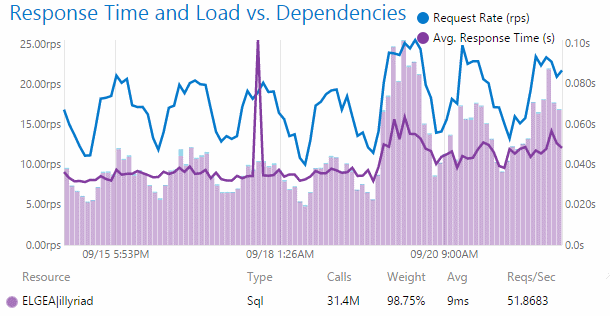 You can also see the server's daily heart beat or ebb and flow of player demands (this is over a week). The later half of the graph increases in requests per second as you (the players) activate the Heart of Corruption and then in response start sending thousands upon thousands of missions to it and the corrupted temples.

CHANGES TO IMAGE, CSS & SCRIPT HOSTING
We have moved where and how we host our images, css and javascript files. Hopefully, this has been transparent to you, the players, as mostly the files are cached in your browser and they aren't requested that much, per player. However, players occasional requests as a group and new players' requests do add up as can be seen on the graphs below: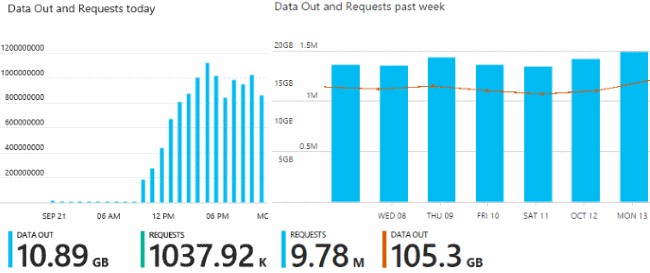 The graph on the left shows when we swapped over the DNS to point at the new resource, and you can actually see the dns update propagating over the internet as the new resource slowly ramped up in requests thoughout the day. The second graph shows the now current day to day activity; do bear in mind these files should be cached for a long time for returning players so those requests shouldn't show up here, however this does include images on our out of game site (like www).

MOVING TROOPS
Things got a little wild around the Heart of Corruption as huge numbers of missions piled into it. Unfortunately this caused some noticable slow-downs in the browser pages getting updates to their movements when the map was focused on the HoC.
To resolve this we throttled what was sent to the map to display a maximum of 1 mission icon (per type) per quarter square - and a maximum of 75 missions on the visible map (per type) at any time, focused around the map center. We hope you enjoy these enhancements to the game environment.
GM Rikoo