The Civillian Fleet is Arriving!
Well seeing as i didnt manage to make the Christmas Update period i would firstly like to take this oppurtunity to wish you all a Merry Christmas, though it might be late its better late than never. Secondly i would like to bring you and update which will be spanned over the next couple of weeks.
I have had much spare time lately to dab around in 3ds MAX and i have succesfully managed to get to know the program in some good ways. I have managed to teach myself a small part of Rigigng and Exporting for the models. But now to the update. Some months ago i aquired low poly models of Coxxons Battlestar Galactica ships. They have been sitting on my hard drive for ages and well i had some freetime and as i stated i got to grips with MAX and its been successful.
This is a big update that will span a couple of days/weeks, it dpeneds on how productive i can be over the next week. Today i bring you three renders of three civillian ships which will be included in Battlestar Galactica : At War.

Description - This ship is used widely in the fleet to produce food supplies, but is also one of the main ships used to ferry large amount of survivors. This Version is FTL capable unlike its partner which was abandoned at Caprica as it only had Sub Light Engines.
Description - The Astral Queen was being used as a prison ship when it encountered the remnants of the Twelve Colonies, due to difficult hostilities onboard the ship its command was later transferred to Tom Zarek.
Description - The Colonial One was originally being used as the personal Transport for Laura Roslin who later became president and made this ship he Headquaters. The ship would be used to hold meetings of the Tweleve Colonies.
Well what do you think, let us know on the comment section.
There will be more updates like this in the coming days/ weeks. I hope to bring all the Colonial Fleet to you in Render format then present them ingame so you can have a sneek peak. Aswell as a quick look on the new Battlestar Galactica Galactic Conquest map.
For now Please support us in the ModDB Mod of the Year Awards!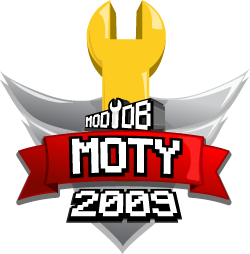 I would like to wish everyone a Happy New Year! and may it be merry for all.
MORE COMING SOON!
Byron