Prepare for your journey, Stalker
Straight to the point: Autumn Aurora 2 will be released this year not 2014.
There was a few factors that influenced that decision and we won't write about the details but there shouldn't be any further delays. Currently we are polishing everything and adding the things we've left to do at the end. We probably will be able to give you the exact release date in a few weeks.

Another interesting thing is that the mod probably will change the name or will have some subtitle referring to joint efforts of Vandrerer's and CrommCruac's. We decided to join our forces and to combine Autumn Aurora 2 with an official AtmosFear for SoC and the next Absolute Nature for SoC. AtmosFear has been heavily edited to match the bleak autumn atmosphere and it's not the same one you'll see in Lost Alpha. Also the Absolute Nature has been redone.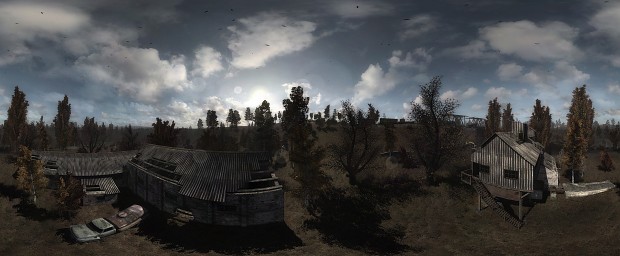 Work progress:
Currently we are editing the maps. We've replaced the vanilla trees with the ones from Absolute Nature 3 for CoP and with the newly modelled ones never seen anywhere else. We've added hundreds of trees and bushes so the maps don't feel so empty as in vanilla.
Regarding your obvious question: does it mean that my machine won't be able to cope with that mod? Not at all. I personally observed only 7-10 FPS drop and still managed to maintain 30-60 FPS on following rig:
Intel Dual Core E5200 2.5Ghz
HD Radeon 4870 1GB DDR5
4GB DDR2 RAM
WIN 7 64bit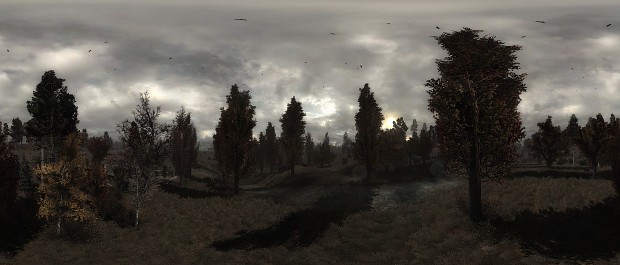 Last thing. We are almost 100% sure that there will be no more trailers or gameplays. It might seem strange decision but we think that when you emerge from the Sidorovich bunker for the first time the look will be rewarding. We want you to discover the game again and feel the haunting atmosphere of this mod combined from the graphics, sound and... something unspecified in the air. We will post some screens and panoramas until the release but not many. We don't want the videos and screens to spoil you the joy of exploring. Let the element of surprise be the most important. Discover the Zone again like you've never been there before. We hope you will understand our decision and we are sure that you will be rewarded.
Yours truly Autumnal Wanderers: Vandrerer & Cromm Cruac