Dejobaan Games, LLC has made available a 30-level pre-release of their upcoming BASE jumping game, "AaaaaAAaaaAAAaaAAAAaAAAAA!!! - A Reckless Disregard for Gravity."
Hey, isn't this fantastic? They got the logo backwards, by the by.
Fans can try a new 9-level demo and pre-order the full game for $15 ($10 off the full price) at www.dejobaan.com/aaaaa. Those who pre-order will receive the full 30-level pre-release, exclusive content as it's developed, and the the full 80-level game when it's released in Q3.
Q3 makes it sound like they're talking about Quake 3, which they're totally not. They mean third quarter 2009.
Since the indie studio released the game's public alpha test, they've added new content and incorporated player feedback to improve gameplay. The pre-release introduces new levels and game mechanics such as the option to trade human teeth for triple espresso shots and the ability to anger protesters for points. There's also a relaxing audio meditation for anyone too stressed out to play the game.
This is, strictly speaking, all true. I've played the bits with flipping off protesters and giving thumbs-ups to fans. Here's a shot of the programming team to prove it: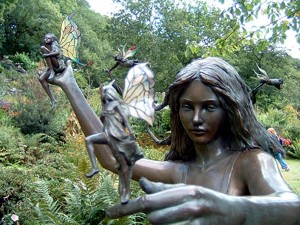 "AaaaaAAaaaAAAaaAAAAaAAAAA!!! - A Reckless Disregard for Gravity" is scheduled for a Q3 2009 release, and will require Windows XP/Vista, a 1.5GHz processor, 1.5GB memory, a 3D card with 256MB memory, and Microsoft DirectX 9.0c. Visit Dejobaan online at www.dejobaan.com, and follow them on Twitter at @RoRoDejobaan.
Again, all true. Stay cool, ladies and gents.