This is a short update of what we have, and what is yet to come. There will also be some early game-play footage within this update.
It has been a long year here at the Beyond the Lines page. We have been messy, jumping around here and there. New ideas, new concepts. Restarts after restarts. Members come, members go. But now after many months of planning, sleeping, eating, working, and crying, we have finally found an idea that we wanted to put into action.
Here is the basic stuff that we have implemented into the game since the last update. Keep in mind, we have restarted the project many times since then.
========================
Gameplay
========================
Not much of the basic game-play has been changed much since the last update. By basic game-play we're talking about combat mechanics, enemy types, and weapons. But we have added a new game-play mechanic, that being, the game is now semi-open world. This means that the player can now freely backtrack to any maps previously visited. This may sound boring if there weren't new objectives to go to in each map even after it's completed, but we plan to make it so that you need to go back to previous maps and do certain things to unlock special parts of the game, ect. It's just something to give the game more play time overall. And if you get bored, you can always go back to your favorite map and shoot em' up, and maybe even play a new mission.
Here's a screenshot of the open-world maps layout: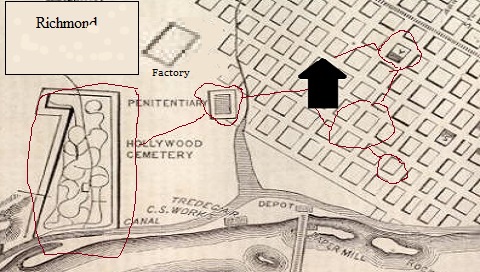 The maps selected (in order from the starting arrow) are, Hub, Town Hall, Town Square, Warehouse 25, Prison, and Cemetery
We have also begun to implement a shop system where you can upgrade and improve your arsenal, as well as purchase new weapons. This is located at the HUB.
In order to progress through the game you are required to solve puzzles. These puzzles cannot be solved unless a certain objective is achieved in possibly a different area of the map.
========================
Art Style
========================
After the first few bits and pieces of concept are done, we have started to realize that you, the community, have wanted a near identical look from the concept art to what is in the game. Because of this we have now hired the artist, SketchZap, to help us with textures, and the overall look and feel of the game. Expect to see more on this in the near future!
========================
Gameplay Video
========================
Remember to turn your sound on as there is commentary on the video!
========================
The End
========================
Well, this marks the end of this pre-mini-update. We hope you enjoyed and be looking forward to the future "Ignition Update"! It will be jam packed with new features and gameplay, and we'll be sure to tease you in the mean time.
-ScatterBox and Meatbox