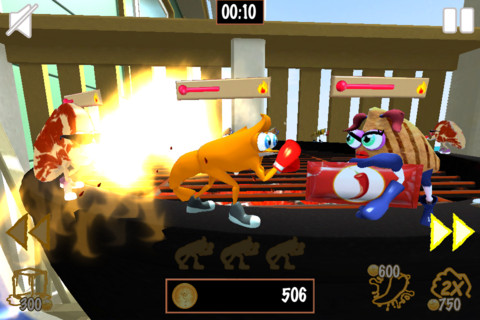 After a surprisingly speedy approval process through Apple, Prawn Star is now available world wide for iPad, iPhone, and iPod Touch!
You can grab the game right now from the App Store!
Along with that, we also have some promo codes for you IndieDB/Desura/ModDB types! First one to punch in and redeem either
P67J6N7JNAPT or NPRA4MA4AYR3
on the AppStore will get a free copy of Prawn Star!
Here's the super formal press release written by one of John Herman's many underlings!
(And by that we mean it was literally written by multiple underlings... smooshed together, in a small box... under the stairs)
===Be the Last Prawn Standing in this action adventure battle to avoid the BBQ!===
Melbourne, Australia– December 9, 2012
John Herman, ruler of John Herman Studios, announced today his latest creation – 'Prawn Star' – a martial arts action game where tasty foes battle to avoid instant flaming death on the BBQ grill, is now available on the iTunes App Store for iPhone, iPad, and iPod Touch!
'Prawn Star' is more than just an app with a really cool title. Admit it, it's catchy. The multi level game features slick state of the art Unity engine powered graphics, original music, boxing gloves on hot dogs, violent corn, deadly condiments, and the cutest, cuddliest crustacean ever. Survival of the fittest never looked so delicious. And it's all brought to you by the creative geniuses held captive in small fish tank-like cubicles by John Herman, the overlord and master…I mean boss.
The game features our hero – a small, friendly prawn or shrimp, running around the edge of a dangerous backyard BBQ, fighting a range of enemies, who all want to avoid becoming lunch. Each battle is a martial arts slugfest featuring punches, kicks, spectacular swivel kicks, and the use of killer ketchup. Players earn coins to buy extra help as they fight their way through a series of levels, each one featuring a greater array of vicious, yet tasty opponents. The combat is intense, the animation spectacular, and the sizzling death awaiting the loser feels very real. We dare you not to become addicted to punching a hot dog in the face.
'Prawn Star' was the brainchild of our hero John Herman. But it was actually built by Paul Mitchell, who's been building games since 1988, before all this touch screen nonsense. Most recently his time and considerable efforts have been spent on the ground breaking Real Racing series for iOS at Firemint studios. Paul also makes a pretty good Spaghetti alle vongole.
He's been supported by Tim and Nick Schildberger – who were asked by John Herman to build a space where creative types like Paul could thrive. Nick has the background in business, so he keeps the lights on, Tim's past includes a key role in the production of the move 'Borat' along with TV and web projects, which means there's always someone to write the press releases.
But none of this would be possible without our spiritual leader – John Herman. Part guru, part genius, and part used car salesman – luxury cars, not junk heaps – John inspires all who grace his presence. His foresight, his passion, and his extensive collection of insect photographs are a never-ending source of encouragement and support. He presents 'Prawn Star' as his greatest creation so far in this whole telephonic application development game. To quote the great man 'I don't know what the hell this is, but I like it.'
Prawn Star can be found at Itunes.apple.com
Visit us on the web at JohnHermanStudios.com
or on Facebook at Facebook.com
Or if you have any questions, drop us a line at pr@johnhermanstudios.com