Development on the game is coming along pretty well, and this week I've spent time working on a tutorial level for the demo. This has included adding new event systems, special collectibles and designing ways of showing off instructions for the player. You can see some of it in action below!
The tutorial level probably wont be in the final game, as you'll be introduced to characters and their abilities a little bit more gradually, but I thought it was a good idea to include in the demo to introduce you quickly to the basic controls before the other levels throw a bit more challenge at you

I also added a new enemy to the game, the Spider-bot!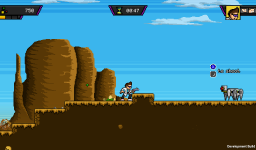 He replaces the placeholder Grumpling enemy I had in the game, and he charges at the player if you get too close!Those are some of the main updates this week, and next week's update should hopefully be a video one, showing off some of the progress the game has made since last time! So stay tuned for more news!