Portal Mortal - Version 0.0.1.3
-Renewed graphics!
-Saw blades!
-Hallucination block is now more hallucinating!
-Fixes here
-And there!
-One new "idle" level, called "Do not move"!
-Working Linux build!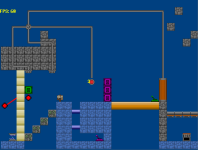 I got big plans for the next version. Something cool will be delivered. But for that, you have to wait... you don't care? Well... can you even pretend to be waiting it? No? Okay...
New, playable versions can be found under "downloads". Sorry, Mac users. Your time will come, but not yet.