Hello there! As some of you alredy know, the open alpha of P2:Displacement launched right on schedule less three days ago. Since then, I've already gotten some very useful bug reports and feedback about the mod, and have come up with various ideas and features to adress them. I have decided that this would be a good time to talk a little bit about a feature without which most of the good things I've talked about above would not have come to be: the embedded survey system!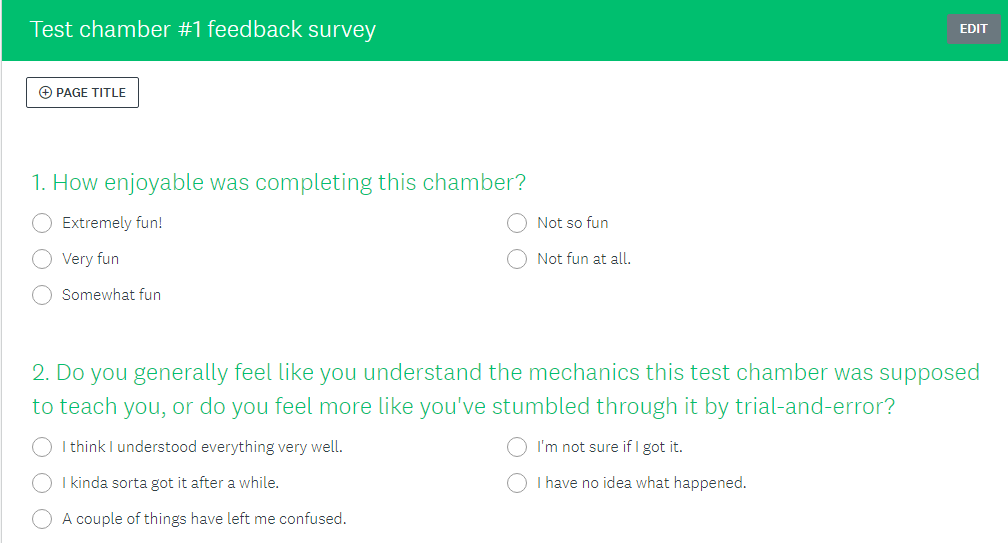 Starting an open test of a software is one thing, but actually gathering what people think about it is something different entierly. I imagine most other mod creators work around this issue by testing their creations and gathering feedback within a circle of trusted friends and family, however lonely basement dwellers like myself are forced to solve this problem with technology and a bit of wit. Using embeded polls in games and other software applications is pretty much standard practice in some regions of the industry - I myself have gotten this idea after watching a GDC talk by a developer of a viral mobile game who used this approach with a great degree of success - but as far a I know no other portal or even source mod ever tried this. It's not really that unusual - most modders probably don't know about the method to open the steam overlay browser, since it requires a vscript function call and can't be done with an entity like many other things in hammer. Nevertheless, I have found it immensely usefull so far and I'd like to take this moment to thank everyone who had submitted feedback using the built-in polls! I recieve everything you send, and all the data will eventually go towards helping to improve the mod.
Once I hit a sufficient number of filled surveys and deem that I have gathered enough feedback (and we are still a long way from that moment, by the way!) I will end the alpha and post a new blog post here going through what sort of feedback and suggestions I have recieved and how do I plan on adressing it. Until then, have a merry and snowy December guys!
~WhyNott