After the recent Romanov's Vengeance stream by Five Aces, we have packed together another release for the mod. As usual, the new version comes with a lot of balance changes and several improvements to existing features. You can watch the stream mentioned from here.
One of the biggest balance change in the new version was to Build Time. Previously all the build time was tied to the cost of the unit/building, with the new version now every unit/building has their own build time. This allows more flexible balancing to the availability of the units. One of the biggest changes to the build time were to Refineries, which got their build time reduced by more than 50%, from 34 seconds to 15 seconds.
One change we did after the Five Aces stream was to one of the most unused Commander's Powers, maybe after the naval ones. For the Allies, we have removed the Airpad power, as with the implementation of multi-dock logic in the previous version, became even more useless. Instead the Allies now get Gun Turrets, which are a good cheap way to deal with enemy tanks early game. For the Soviets, their Tesla Fence Posts now gained a small Tesla attack, giving them more capabilities in the base defence.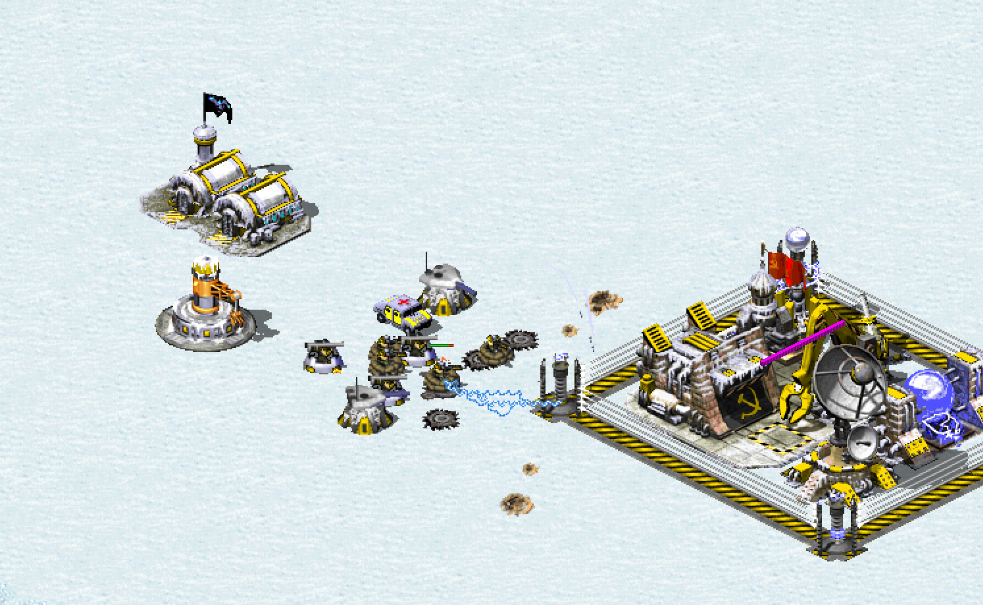 Gun Turrets and Tesla Fences
The new version also include more changes to sounds, as now vehicle start move sounds, infantry fear voice lines and V3/Dreadnough fire sounds are now implemented.
You can find the full changelog here.
You can download the new version from here.