Playing the Game (www.playing.vg) is an event that focuses on games and beyond: art, ideas, collaborations and media hybridation. The Waste Land, with its conceptual roots in T.S.Eliot's work and its particular visual approach fit very well in there. I presented the game to the audience and discussed art and design choices with the most interested ones. At the end i've given away the first demo on CD, quite demo-tape-style :) to stay in the retro mood.
This very same demo will be available here on IndieDB shortly!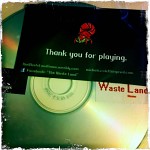 Join the Facebook group here: Facebook.com, visit the website: Thewastelandgame.weebly.com

Fledermaus.