Last post, I asked for people who want to host a server. That went WAY better than expected: I've got eight volunteers by now! I love the Desura community <3. At the moment, five people are what I call a server admin, and several of them have indeed managed to set up a working server. Woohoo! This marks a very special point in the development of Olvand for me. For the first time in my life, I played my own game with strangers! This is a screenshot I made of the first strangers ever logging in on my own server for testing purposes: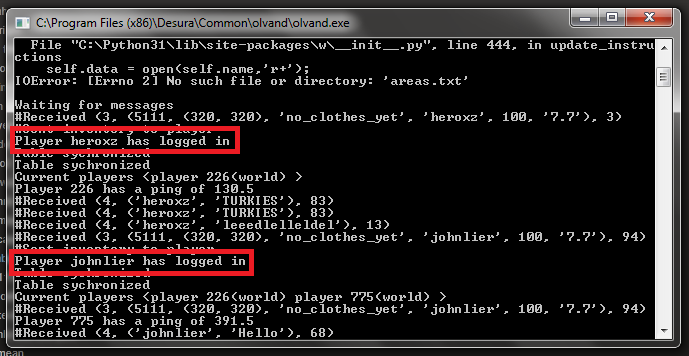 It's an incredibly weird experience to see people move on your screen, while you know this is because someone is pushing buttons on the other side of the ocean: I was hosting from the Netherlands, Europe, while they were in the States. Even weirder is that this all works because I wrote the code that makes their computers send these messages. Here you see me, HeroxZ and Johnlier testing: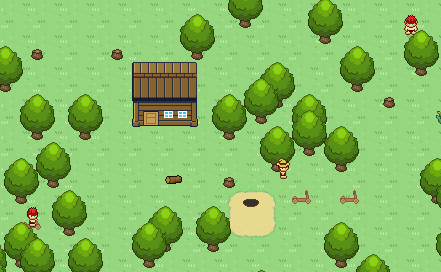 Surprisingly, the game turned out to be very stable. So far, there has been only one server crash that I know of, and only a few crashes per hour for the client. That's of course not even close to acceptible for a finished game, but for a test build that's actually a pretty good prestation; I've had testing sessions with friends that were much MUCH worse. I've released a patch since then which solved most of the problems (as far as I know), and I'm currently working on another one.
When can you play? At the moment I am waiting for two server admins to get back their computers so they can set up dedicated servers that can be online all the time (which is also a cool thing - I really enjoy logging into a server and discovering people have built a little town there), but once that's done I'll invite the first group of testers. If you're reading this and have asked to be a tester, there's a big chance you're in that group. Meanwhile, I'm making good use of this waiting to implement a few more features which will make the lifes of testers and servers admins easier. For instance, a crash log and server commands are very high on my to do list.
If you want more development, see [twitter] or [facebook].