Player and Town Growth Graphs

While working on a larger feature, we thought we'd share a new item that has emerged from testing and works quite well in its own right; this is from the same piece that the real-time combat feed came from (which is now working again).
There are now two types of hourly growth graphs available to you.

Town growth

Private to the player who owns the town (or sitter) is the resource growth graph which shows the amount of resources you have stored on an hour-by-hour basis and the production rates that is happening: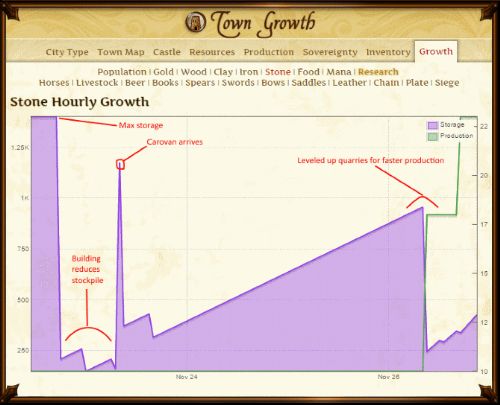 Hopefully this will have the additional benefit of providing clarity as to why buildings are de-levelled when this happens.
All the resource types are a pairing of storage and production, except population which is a pairing of population and tax rate.

Player Growth

Viewable to all players and available from the player profile is the player growth graph. This shows a trio that is made up of the player's population, town count and sovereignty held (in the top section) and the 8 scores that are used on the rankings (in the lower section):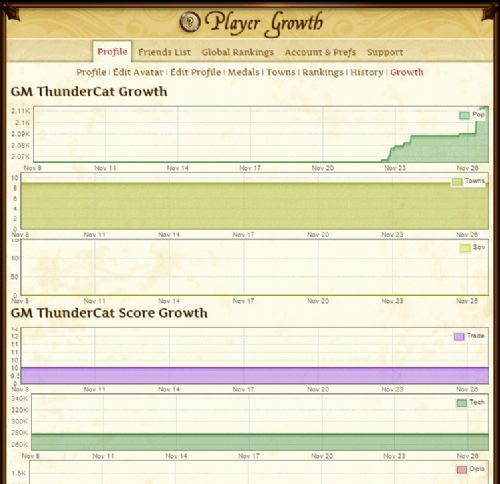 This data has always been publicly available; but the trending has generally only been available to the makers of third party tools. With the demise of Illytools we decided to make these trends available to the wider playerbase (which also provides some of the ability
requested by the PIG group
)

Additionally

Weirdly-formatted scout reports have been fixed

Production schedule numbers have improved spacing so large orders no longer run together

The data extract files refresh has been fixed. The issue was caused by the CDN being overly optimistic in its caching. We have now fixed the https headers which should resolve this - however it may take a little while for the old files to flush out of the CDN edge nodes. Meanwhile to force a fresh file pull you can add a refresh query string to the end of the filename and pull a file that will update on refreshes


e.g. Data.illyriad.co.uk
-> Data.illyriad.co.uk
GM Rikoo