Based on input over the past few weeks I've decided to ahead with the limited release of the proof-of-concept demo* of Terminus Machina to a group of selected testers. Those who have contributed to the mod in some fashion -- content or donation wise -- will be at the top of the list for potential recpients. Again, this release will be fairly rough, one mostly complete city section with three or four sub-areas and a few missions. But I feel it is necessary to get feedback on the multitude of new features and gameplay modifications before continuing much further; the foundation needs to solid before I start layering levels, investing copious amounts of time, mine and others, to make sure we're not wasting it.
On the positive side, the length of the demo may not be great however I've tried to stretch its "width" as much as possible, in keeping with the legacy of DX. "An inch wide, a mile deep," was it? Every skill has its own set of solutions for each objective, and thus testers are encouraged to replay choosing different skillsets, as many options, abilities and even items will only be available with certain skills. Most of the items will have to be constructed from the junk you find, the detritus of a shipwrecked civilization so to speak, and each skill -- from "circuit breaking" to "mechanics" to "biohacking" to "Improvised Explosive Devices" will factor in to what uses you can make of the garbage-strewn street.
Again, this playable demo will *not* be up for official release yet. However if you're interested please send a message or comment on this post. I will begin sending out the demos ASAP as soon as I can tie up a few last loose ends, showstopping bugs, and sort out a working installation method.
Thanks again to all gracious contributors who've blown a weekend working on Terminus Machina that could've been spent trying to piece together the Illuminati's next move in the EU SNAFU or getting wasted at the nearest pub with the mates. Here is the latest by our star modeler, Sinking. Introducing the IED: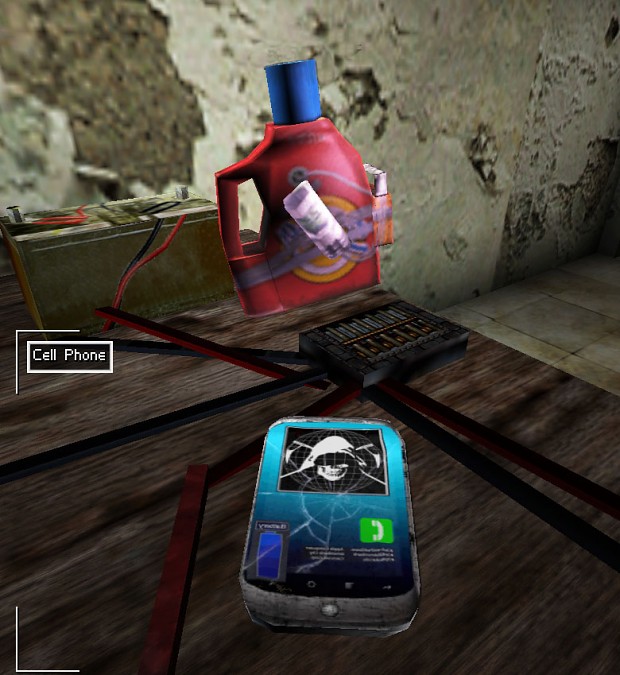 "The IED (Improvised Explosive Device). This lo-tek ammonium nitrate bomb is the bane of occupying militaries and police state legbreakers everywhere. Cooked up from household chemicals and pirated copies of the Anarchist's Cookbook, jerryrigged with a discarded smartphone as a triggering device. Hacktivists are advised to use a jailbroken cell phone for remote detonation, since all major-carrier calls may be monitored for your inconvenience and may result in capture and interrogation by TMT. (Transcranial Magnetic Torture device)"
And here we have the new Shenzhen-smog-red skybox, that adds just the right tinge of cyberpunk dystopia to near-future San Francisco after the full consequence of the bank-bailout/heist hits in the form of austerity measures. Full of economic destruction, sweatshops, and industrial waste dumping:
(*I suppose we can call this a pre-alpha but then we'll start getting Jesuitical with the semantics).