Hello dear community,
Today marks a very special occassion in our history: Shortly after releasing patch 1.1 for Stargate - Empire at War: Pegasus Chronicles our ModDB page reached over 3.000.000 views!
To thank you for your loyalty and support an exclusive render was created by McKay, only for you.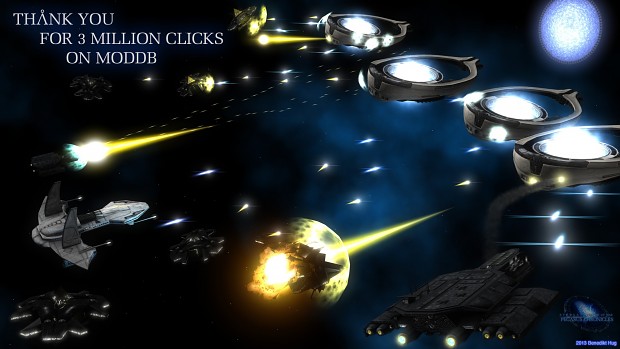 It is also our great pleasure to announce another reason of great excitement: Suitingly coinciding with our third millionth view are the "Play with the developers" events!
Since many of you have been asking us to play with you, and even to arrange tournaments, we decided that it was finally time to put this idea to the test. It was proposed almost directly after the release but no one really had the time to prepare it while working on the first patch.
Now is it a reality and YOU can be the next contestant to feel the wrath of one of the developers, be their ally, or just have a good, casual multiplayer game of SG: TPC with any of your friends!
We will open dedicated topics in our forums in due time, with specific dates and times set, as well as access to a TeamSpeak 3 server that will be available for anyone who wants to join.
At first these games will be purely casual to see how big the interest is. If a lot of people are interested and show up at the events, they may later on form teams and there can be official tournaments with ranked matches!
Finally some information on how to set up your game so you can play with everyone else, and how to access the TeamSpeak server:
Thanks for CityMC for providing us with a public TeamSpeak server!
We will start the event at 27.07.2013, or the 27th of June, 2013, 14:00/8 a.m - open closing (~23.00/5 p.m). All times mentioned are in UTC + 1, Meaning 14.00 in the middle of Europe is 8.00/8 a.m on the east coast of the US (New York). A handy tool to make sure you don't miss the event is the The Time Zone Converter (try with New York - Berlin etc)
Download TeamSpeak 3 HERE
This is the IP to the TeamSpeak server: ts.hallo1250.de
Click HERE to connect to the server after installing TeamSpeak 3.
As a multiplayer game may only take place if the participating clients have the exact same files
as the host (and then obviously each other as well), please ensure that
you can join a TPC multiplayer game before participating in the event,
as the developers will only provide limited support, see below.
In order to ensure compliance in multiplayer, please check chapter 6 in our FAQ.
In order to assemble everyone in one place, please make sure that you are using the German master server ingame.
To use the German master server go to the main menu of the mod. From there, click Internet -> Multiplayer -> Then log in and click Connect -> Click on Options in the right-hand menu and change the "Host Location" to "Germany" -> Click Accept.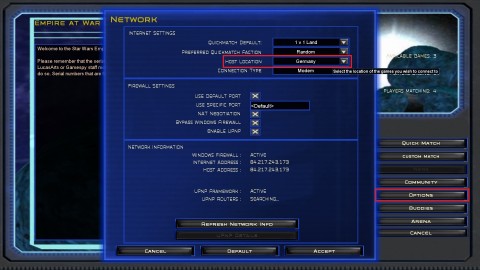 As the developers attending each event will have their hands full with organising people you should only expect minimal support from us.
Please make sure that your game and mod installations are clean and that you have the RAM-fix if you are using more than 4GB of DRAM on a 64-bit system and that you have the multiplayer fix installed!
More information can be found by reading our Frequently Asked Questions at our forums: FAQ
We hope to see you in the very first of our "Play with the developers" event!
Until then, have fun with the first patch!
Sincerely yours,
the Stargate Modding Group