Hello Everyone,
We would like to give access to an early demo of our game called, "Mummy Martyr". The game is still in development, it is completely playable. Show your support and visit our facebook page, and give us a like. Download Android Demo
Story
Mummy Martyr is a story of ancient times, a time when ordinary man is a slave and the land is ruled by an evil Pharaoh. The merciless Pharaoh has replaced the statues of the gods with his own image to control the people. The gods have resurrected you, a spirit to destroy the Evil Pharaohs statues, and help free the people from his control. For every evil statue that is destroyed you are reborn in a new mummy body to continue the battle, until the dreaded Pharaoh is eviscerated.
Help the gods, free the people, you are Mummy Martyr.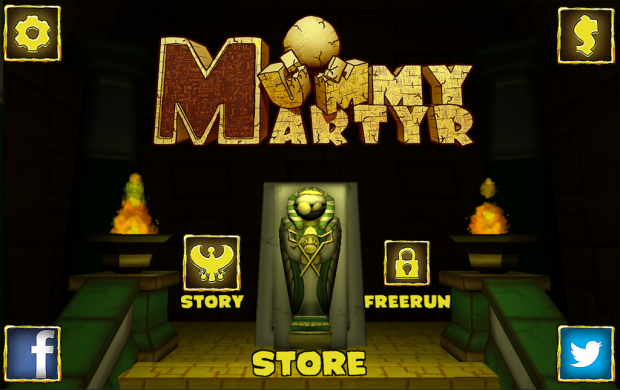 Features

- You can lose your head and arms and keep going. You're a Mummy, you are already dead
- Use combos to run, jump, flip, slide and blowup to complete levels
- 3 chapters, 45 levels, full of crazy limp tearing traps
- Unique 3D art style, cool ambient settings, original music, make you feel like you're in ancient times
- Experience the joy of Real-time physics at the end of each level
- Wear an assortment of accessories
Download Android Demo
Facebook
Presskit
Mummymartyr.com
We look forward to any feedback or suggestions.
Thanks you for your support,
FingerFunGames Team