Play our new demo for Games Made in France!
Tune in from the 21st to the 24th of October & let us know your thoughts
We're really happy to showcase a brand new demo for Games Made in France! The event will happen from the 21st to the 24th of October and will showcase many indie and AAA creations from French studios of all sizes. Tune in on Steam to support the participants and visit the game website to watch streams and dev interviews!
Experience all the latest new content
It's been two months since we opened our last demo for DreamHack Beyond! Two months during which we have not been idle because we have improved many existing features and added a lot more content.
Here is a list of several things you can expect in this brand-new updated demo!
Floors system. We have added many new ways to enhance your experience. You now have the possibility to build floors to extend the casino vertically.
Client types. Three types of customers will now visit your casino, Tourists, Mobsters and Miners, each of them with its very distinct look. Make them happy and you will attract more clients of the same type, grow your reputation and your income.
More decorations along with four themes (Tiki, Space, Greek, and Business).
Zones have also been rearranged to give more control over the layout of the casino.
Employees management: Two new areas have been added! The locker room allows for the hiring of cleaners and guards, and the restrooms allow employees to recover their energy.
New casino model. This one takes into account the addition of the floors as well as some new features and brings some visual variation.
New attractions have been added to entertain your customers. Among the best: Sssoltar the soothsayer, an automaton that predicts the future or the Pinball.
French localization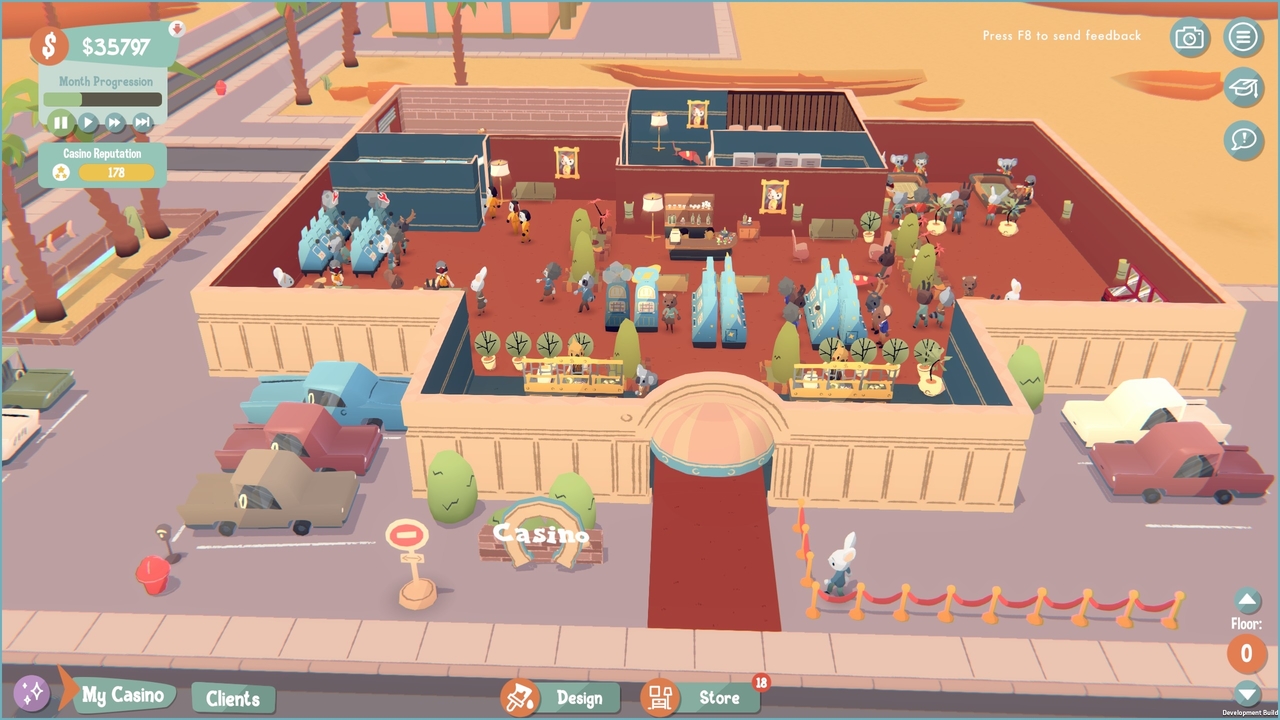 Do not miss the community challenges
We will organize several challenges throughout the event, follow us on Twitter to get a chance to win goodies and a copy of the game at the release.
As always, do not hesitate to share your thoughts and questions as we make progress to the development of Blooming Business: Casino. We regularly share news and invite our community to playtest the game on our Discord. We want to share with you how we progress and are always keen for the feedback!
Thanks from all the Homo Ludens team!
Cheers,