EVENT DETAILS
• Exclusive pre-alpha build of Midair
• Hangout with Archetype Studios
• Give your feedback to the dev team
• Beer for those 21+ (ID required)

Aug 29th - Location TBA
• Off-site, just a block from PAX
• Kick-ass after-party
• Does not require a PAX badge
• All ages welcome
Archetype Studios is excited to announce that the latest pre-alpha version of Midair will be playable during PAX Prime. You can save a seat for our event, but they're going fast - RSVP to reserve yours now!
GET A MIDAIR GLASS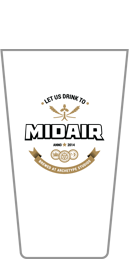 Midair fans who RSVP and attend will be drinking their liquid of choice out of a piece of gaming history for the rest of their lives.

RSVP now! Supplies of these glasses are limited and will go to fans who RSVP first.