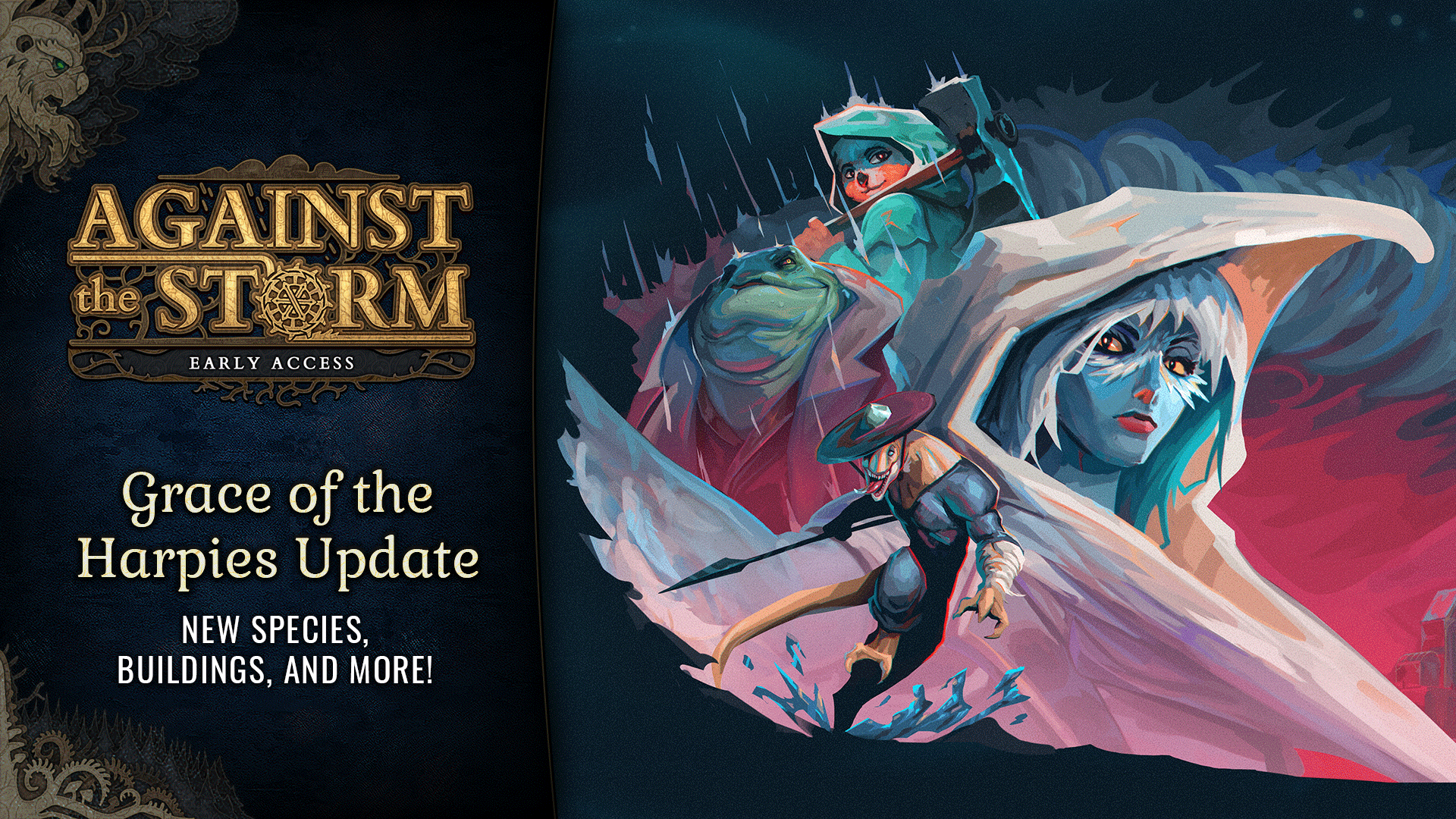 Greetings Viceroys!
Graceful yet bloodthirsty Harpies join Beavers, Lizardfolk, and Humans in the 9th Against the Storm Early Access Update! Grace of the Harpies Update abounds in many new features including:
Harpies – new playable species
a new gameplay system – Caravans
11 brand-new Buildings
20 new Orders from the Queen
7 completely new Perks
2 new types of Goods to collect
6 new Embark Bonuses to choose from
and more!
If you haven't played the game yet, you can get it with $10 discount with Epic Coupon: Against the Storm on Epic Games Store.
We also prepared a special Update Trailer:
If you enjoyed it, give it a thumbs up and follow us! Fun fact: the large city from the trailer was inspired by Arbitrarius screenshots from our Discord server.
And as always, we encourage you to review the game on Metacritic. It helps a lot!
DEVELOPER NOTES
This is the update we've all been waiting for – Harpies have finally arrived! And with them, a lot of new content and balance changes as well. But the Harpies' addition is not as simple as just slapping a fourth species on every game you play from now onwards. Instead, we decided to always limit the number of species in a given run to three, especially considering that a fifth species might very well happen in the coming months. To make things a bit more interesting, we decided to leave some of the species choices up to chance – and this is where a new system comes in – the so-called Caravans.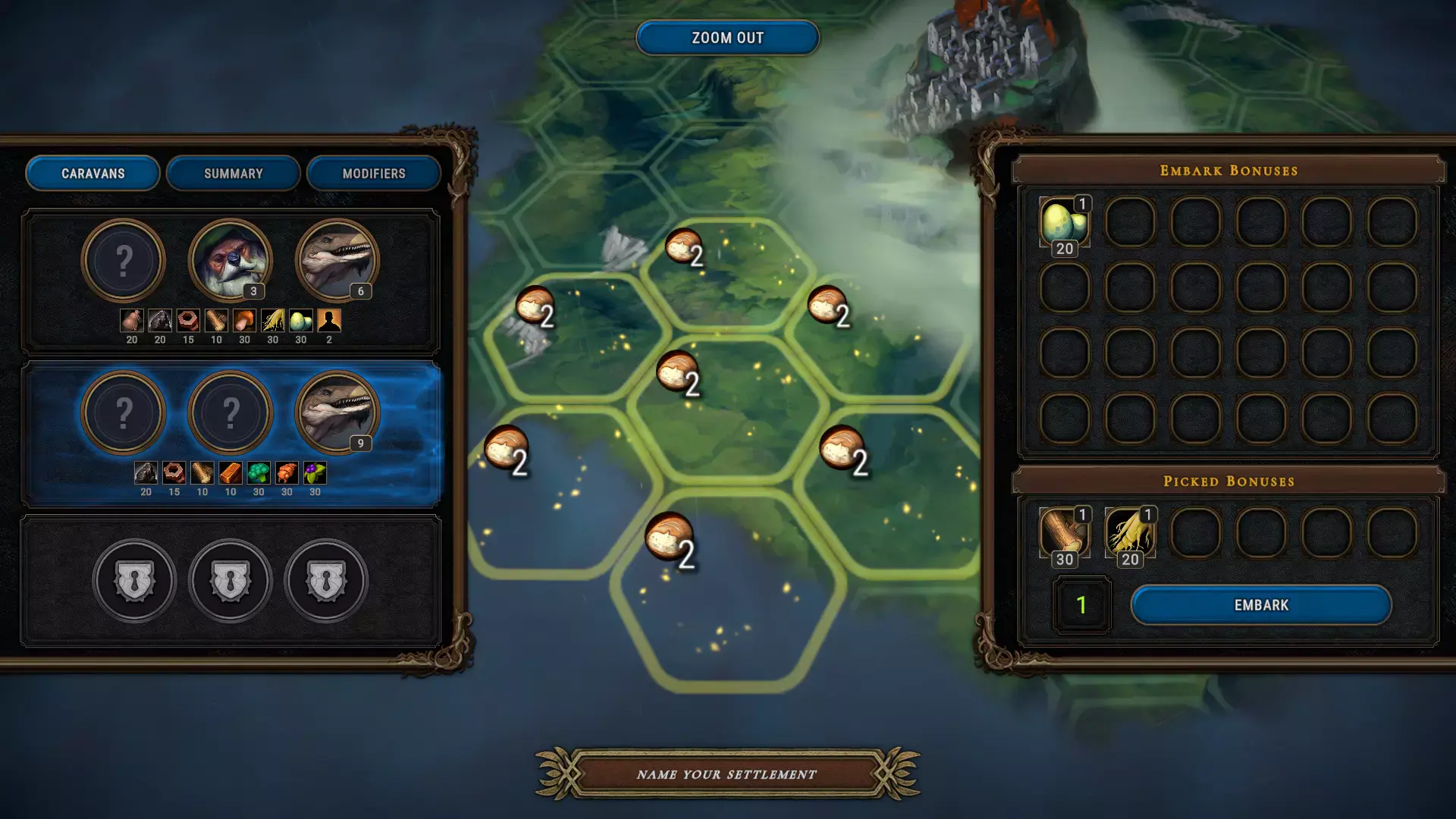 Caravans tab in the Embark window
Caravans are pseudo-random sets of resources and villagers you choose before starting a new settlement. They are located on the same screen as Embark Bonuses and you must choose one Caravan before starting a run. The tricky part is – they often only contain one or two species, with very different amounts of resources – so it's always a tough choice. Do I take a bit more food with me, but at the cost of not knowing what the other two species will be? Or do I take fewer resources but at least I'm certain that I'll have Beavers and Lizards?
Additionally, there's also a system in place that limits some Blueprint choices, Cornerstones, and Orders based on what species you have. Therefore, there shouldn't be a situation where you need to complete an Order to keep Humans happy if there aren't any in your village.
With the addition of Harpies, there's also a massive amount of changes to the game's already existing content. We took a look at all the recipes, goods, orders, perks, and buildings in the game and rebalanced a lot of them. The exact details of what was changed are listed below in the Changelog.
The main point here was to not only adjust the existing balance to the new species but also take into account some of the most prevalent pieces of feedback from the community. Think goods that are rarely used, service buildings that are too underwhelming and rarely picked, or workshops that are too OP (*cough* Lumbermill *cough*).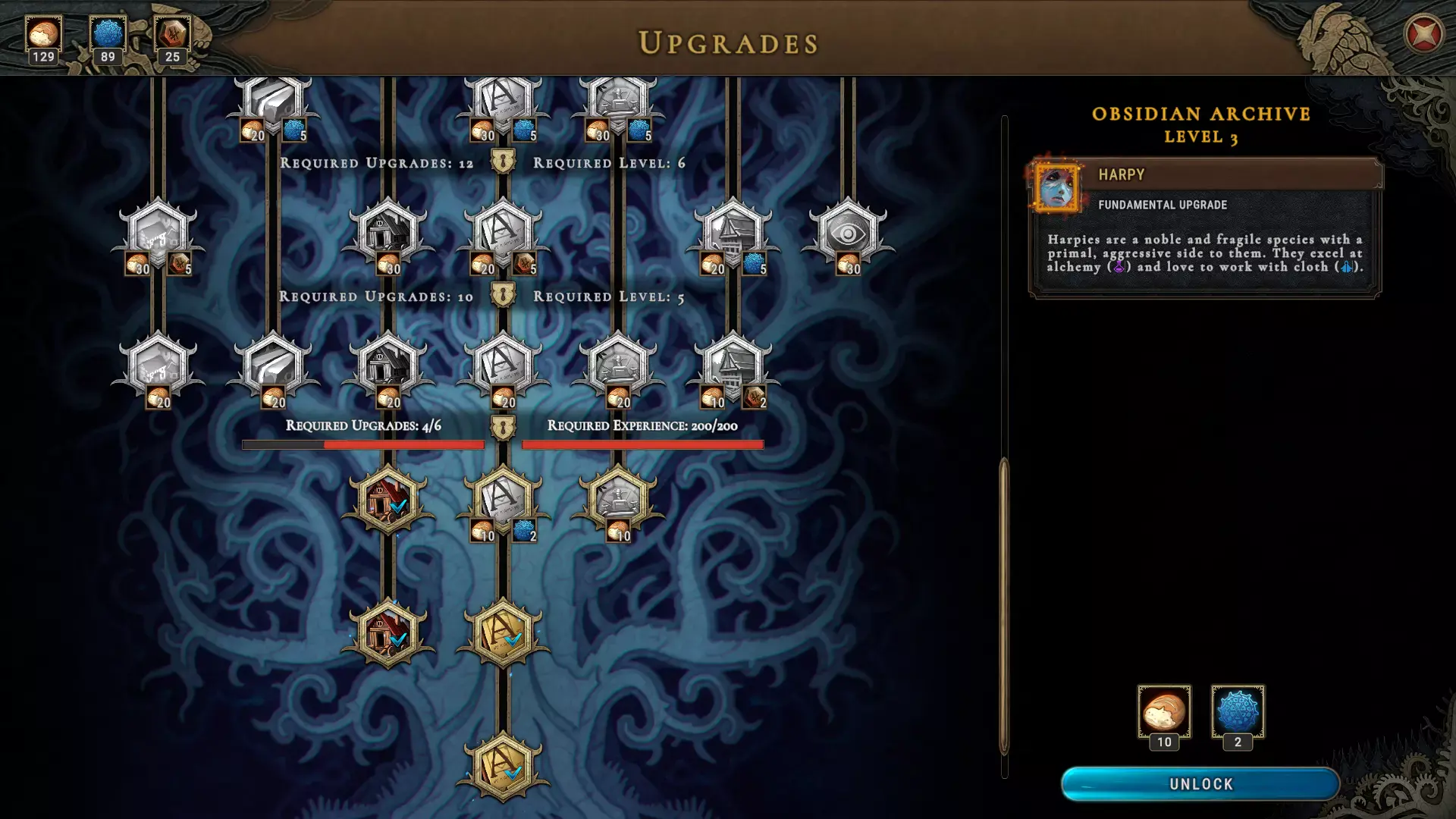 Resfhuffled Upgrade Tree. Purchase Obsidian Archive level 3 to unlock Harpies.
We also reshuffled the Upgrade Tree a bit, so it would accommodate Harpies and the newly added buildings. However, this particular area of the game is in a weird spot right now. We're planning a major overhaul of the entire meta progression system, so any significant changes will happen after Harpies are released (more on that in an upcoming Roadmap update, so stay tuned!).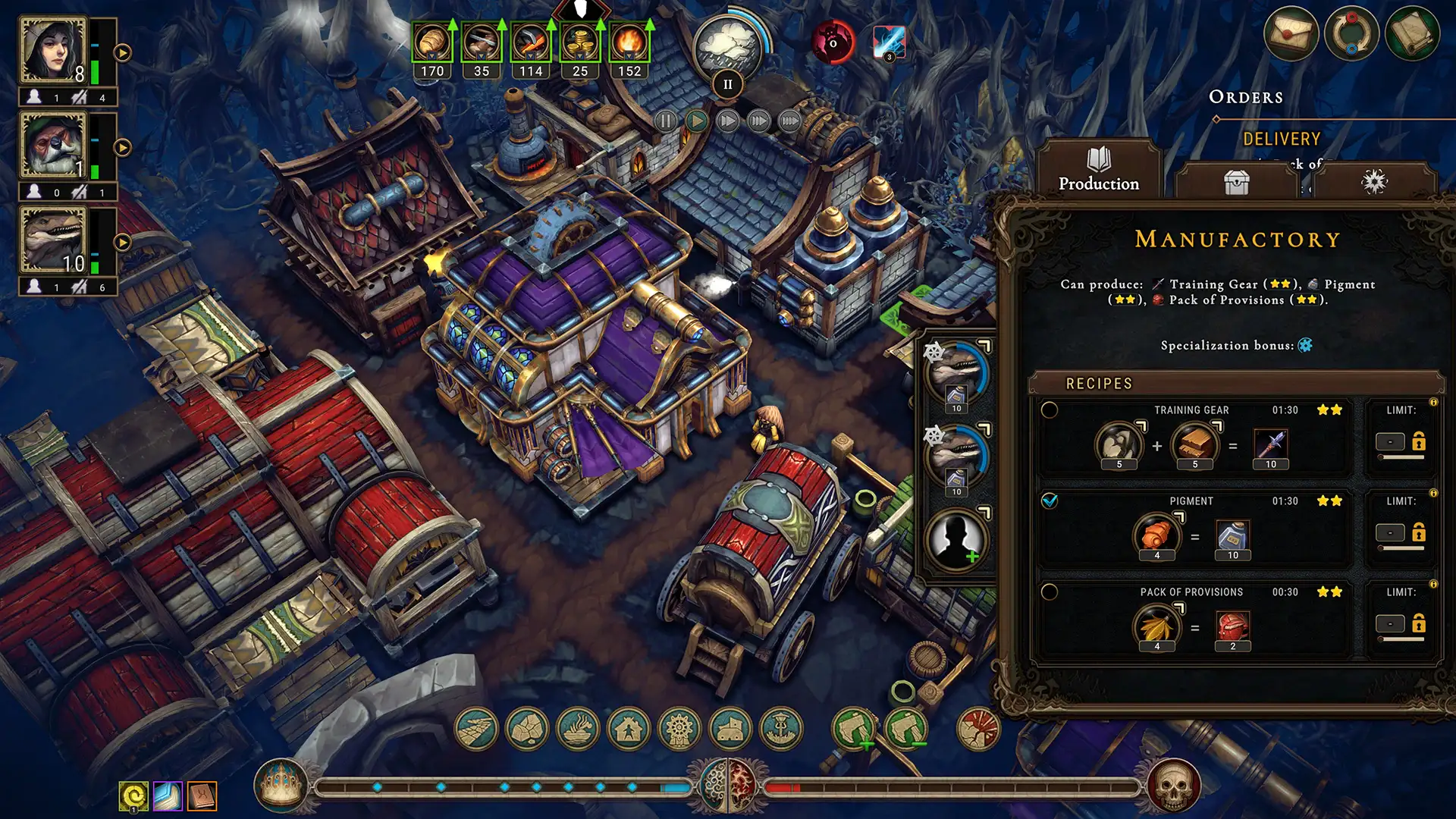 New Manufactory building.
CHANGELOG
You can read the full changelog on our website: Grace of the Harpies - Update Notes.
We're super grateful to everyone who contributed to this update and who tested the major changes on the Experimental Branch. You're the best!
Now, enjoy the new update and let us know what you think!
May the storm be gentle on you,
Eremite Games team
Current Early Access version: 0.18.1R