NOTE: We now have a facebook page, facebook group, myspace page (myspace is not appropriate for kids, adults and teens only!) and a twitter page! To be kept up to date don't forget to sign up for our newsletter! Also be sure to check out our nice new forum!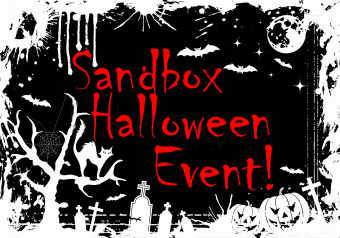 The community has shown interest in having a Sandbox Halloween event, so let's do it


Here is the event thread
Here is where the maps will be posted for the event. Check out Halloween House and see if you have what it takes to find all the pumpkins!
IMPORTANT NOTE - Because of a death in the family I will not be able to host this event. However, I can keep my server up in /bananarelay with save the banana and also people can submit their maps for 8pm and there can be the Halloween even like that with lots of maps to play. Also if anyone wants to join the IRC that is fine but not sure how many people will be around. Any suggestions and ideas to this are welcome. I do plan to try to at least do a halloween makeover of house for Friday

and maybe the hedgemaze. Doing something Sunday might be a possibility as well though no guarantees. Let's get some feedback

The Date and Time: starting 8pm EST on Friday (day before Halloween) is when I thought would be the best time so people from the West Coast would be out of school and work hopefully. We could certainly start earlier as well for any of our Eastern Hemisphere friends. Let me know what you guys think and we can work something out

We'll meet up in our Developer Chatroom aka IRC. You can join with just one click and check here for more info on that!
Let me know if you are interested, it would be good to get a head count to see if we'll need more than one server up to host all of this or what. Thanks!
The Event:
Ideas for the event include:
- Competing in multiplayer on Save The Banana in BananaRelay mode (perhaps a Halloween makeover to the map)
- Creating mazes (corn field like mazes) and perhaps including letters to find and having to figure out what the maps secret message is, first one to do is the winner! This would be done on a multiplayer server.
- Chaze I believe is creating a haunted house
- Perhaps we could even have a competition on scariest/most fun Halloween map? I know there isn't a lot of time, but gameplay and fun is more important than awesome looks. Even single player maps could be submitted so that people could trigger sound effects and such

More ideas are certainly welcome! Perhaps we could have an encore of the event on Sunday too. Saturday I just think will be too tough to get anything going since it is actually Halloween and I for one will be out with my shopping cart costume

ALSO be on the lookout for a new patch soon!
Take care and thanks for your interest in Sandbox!
-mike
SandboxGameMaker.com
Doom3coop.com Previous project Doom 3 Coop Mod Last Man Standing