Hello people of ModDB!
I'm happy to announce that the first few parts of Veritas will be releasing to the public as a sort of "sneak peek" later this year. Unfortunately, with this good news also comes some bad news: Namely, the full mod will not be able to release within 2020, and will have to be delayed until 2021 at the very least. I now finally have a somewhat complete understanding of what I want the scope of the project to be, and I have decided that it's just not realistic to have it release by the end of this year. There are only two months left until that supposed release date, after all!
Still, I hope this news can be of interest to some of you, and I leave you with a few sneak peeks on some of the new additions and even things to come: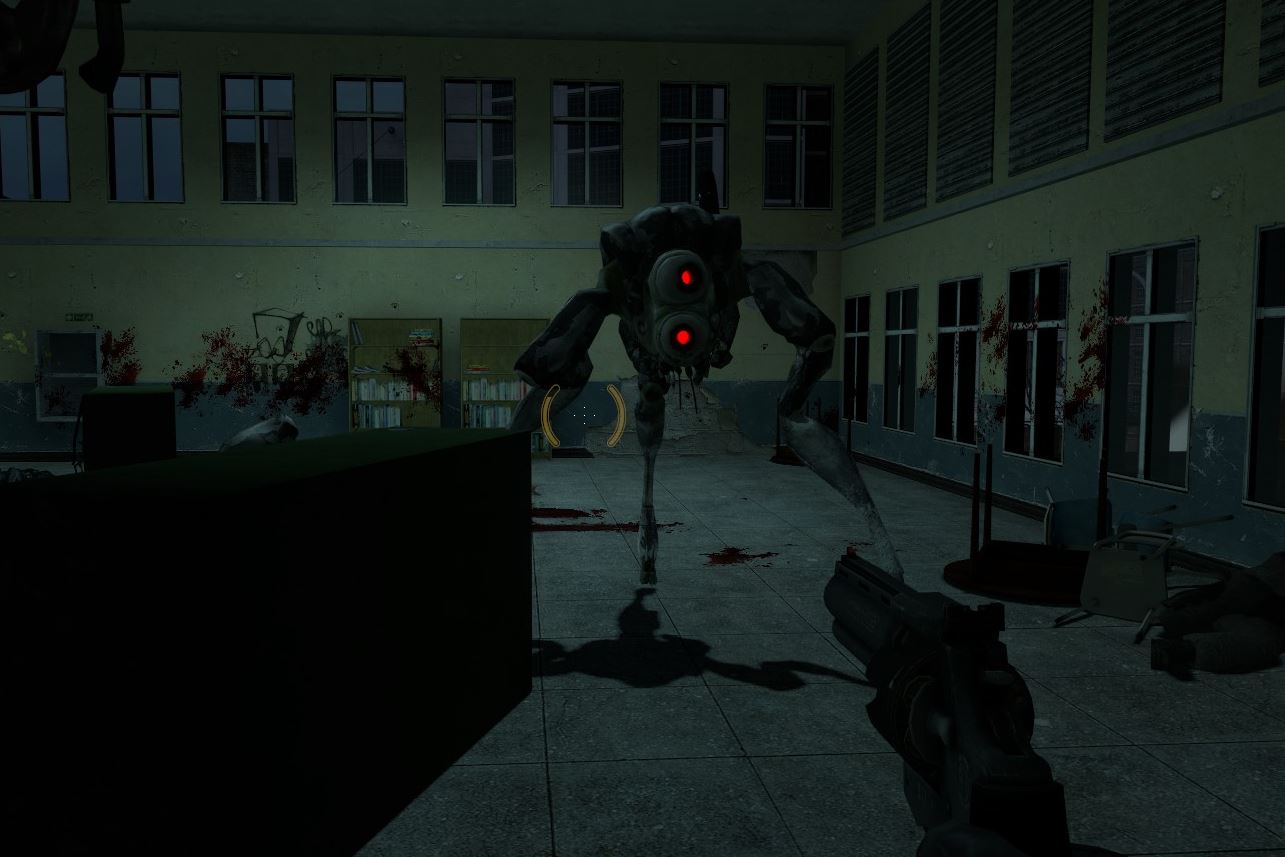 The "team" (really just myself for the time being) is working on adding a few new NPCs and variants of existing ones to spice up the gunplay. After playing that newfangled Half-Life Alyx, we felt like it would be nice to have some new gameplay elements thrown in here and there regarding the now over a decade old combat of the Half-Life 2 games. The screenshot above is of a "Urban variant hunter". It's a hunter variant that evades your attacks by dodging and jumping around the area, and fires homing projectiles that force you to keep moving to not be hit. Its exact capabilities and graphical representation is still being worked on, but I hope you'll find these additions interesting. Aside from just this one NPC many different setpieces and combat opportunities are planned with several new and tweaked additions: I trust you'll have something to look forward to.
Aside from NPC additions, the story is also now taking shape: It won't be a huge, overarching storyline that will make you cry or anything, but I'm quite happy as of now with what the story will be going forward. You won't play as Gordon, but I hope you'll enjoy it nonetheless. I'm going for a "what if valve decided to make Opposing Force/Blue Shift-esque expansions for Half-Life 2?" kind of thing, so it'll be about a new character in a new-ish setting... you'll have to wait and see the further details though. I feel like it would be pretty dumb for the dev to spoil everything that happens even before anyone has a chance to experience it.
That's it for my update today, and I sincerely hope you'll be able to experience - and enjoy - what I have in store for the end of the year. My university semester has started now, and although I won't have as much time I once did, I still believe I will be able to give you all something to look forward to. You can expect around 3-4 Half-Life 2-sized maps for the demo, and although they won't quite be the final level of polish you may expect from a mod that pledges to deliver this much, I hope none of you will be disappointed.
Happy Halloween, and I hope to see you all soon!