Hello there, pizza Express lovers!
It's finally time. It's finally here. After two years of development, a lucky Greenlight campaign and a small delay (caused by the game being greenlit!), I'm happy to announce that Pizza Express is coming to Steam on June 25th and it's going to be packed full of achievements and fun!
Everything for the small price of $6.99! But wait, there's more! To celebrate the release of Pizza Express and five other games published by Black Shell Media, we're going to slash the price to $5.25 for the first week! That's a 25% discount you'd better take advantage of until it lasts!
Together with achievements, Pizza Express will also feature Steam Cloud support and Trading Cards. The former will let you share your savefiles on different computers, while Trading Cards are being designed by artist Silvia "lord--sama" Campolongo. It's still uncertain whether Trading Cards will be available at day one or not, as Silvia is still working on them, but if not, a future patch will add them to Pizza Express. Meanwhile, here's a preview of what's coming!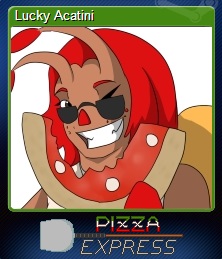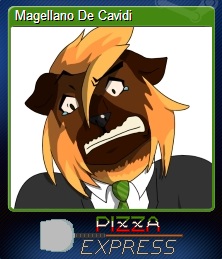 On a negative note, Pizza Express doesn't seem to really like the Steam Overlay. This is a common issue with all GameMaker 8.x titles, where the Steam Overlay gets displayed only partially. The problem is more severe the lower the game resolution is. Besides that, everything has been working wonders, and my publisher and I can't wait to see Pizza Express take off!
And that's all for now! Pizza Express is already waiting for you! Will you have what it takes to become the best restaurant in town? You still have some time to try out the demo, read a preview by VGAlmanac and while you're at it, make sure to follow @OnniInteractive and @BlackShellGames on Twitter!
See you then, and have a wonderful day!