So this is the first Pixel Tanks news post. The team have been working on this project for a long time rather on and off, but we're starting to pick up the pace and get this game finished! With that, I'd like to dedicate these news posts to a frequent and enjoyable insight into the background work of Pixel Tanks, allowing you see what we're creating and improving on.
First off, the plan is to move Pixel Tanks to Beta stage, which involves finishing off the general gameplay ready for bug fixes and finishing touches during that final stage. Since our previous release of Alpha version 1.2 we've started to complete a full graphics overhaul where we've added a HUD sidebar, changed the background and edited the game resolution.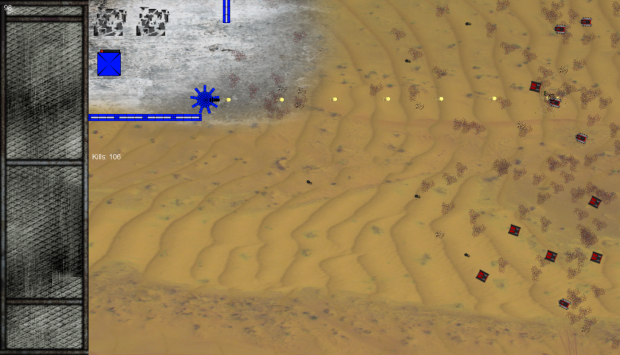 As for the coding side of things, we have implemented a currency allowing a reward for killing oncoming enemy tanks. The idea of this, is that we plan to use the currency as a way for the player to help protect themselves from the inevitable destruction of their base through buying upgrades and such.
Now, we have implemented the ability to hold down the left mouse button and a continuous fire rate from the turrets will head across the map. This will replace the previous constant clicking that was needed to fire upon enemy tanks.
Last but not least, there are some HP tweaks with the enemies. New tanks types that spawn later in the game will have different health points than others did in previous waves, creating a challenge for the player to face in later gameplay.