Pirates Glory is a persistent game world where you take up the role of a sailor in the age of gunpowder.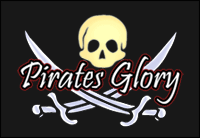 It has been in development since 2008 but it has only recently became really playable.
It is still in heavy development. HTML5 extensive support and some 2D graphics are being planned for the future. Right now we are focusing in providing long-term playability with new features.
You can check the game page for more details.
You can give it a try in www.piratesglory.com