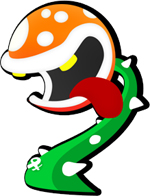 Muhahaha! It's me, once again... Page Piranha! Kneel down against my power...
Haha! Today I'm going to introduce one character, one weapon and one level. But first, some news from the team. The main coder, OneEyed, is still working on the kart prediction. Prediction is something very complex between the player and the server, and it's designed to reduce the ping and make the game more fluid for the slower connections. The Source Engine is not thought for the race games, so we are doing everything from scratch.
Okay. Do you remember the Green Shell? The Red Shell is looking the same... with only one difference: it's red. Simple, right? The real difference is in how it functions: the red shell follows the player right in front of you until it hits him or any other obstacle. If the Red Shell is shot backwards, it acts just like a Green shell. Oh, by the way, you can keep your shells behind your kart as a shield against the other shells!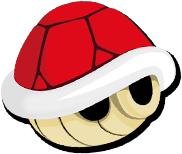 Yoshi is a worshipped dinosaur, he is the Mario's best friend and he follows him around like a dog in all his adventures. Yoshi is able to say a few words, like "Yoshi", "Yoshi?", "Yoshi!" and "Yah-ooo!". Without a doubt he is the most popular racer of all those in Mario Kart. Some members of the forum are dedicated to him like a cult... They are sick.
I'm closing this news with a famous level: Doubledeck! This awesome level from MK64 will be in MKS, for our great pleasure. Thanks to KillerMapper

And voilà, I wish you the best holidays and good luck for your exams.
Page Piranha ~ The MKS Team (contact us at mariokartsource[at]weaven.fr )