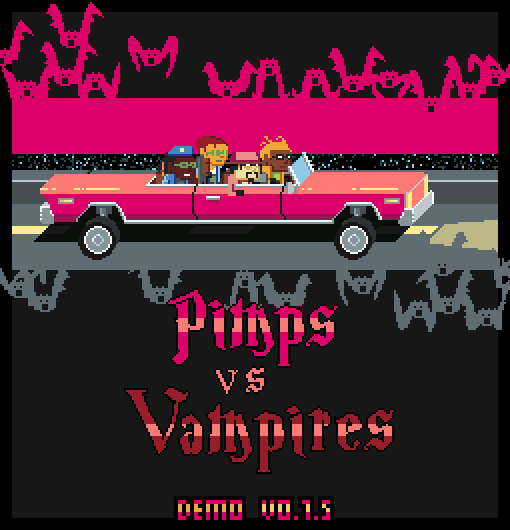 New Stuff in v0.1.5a
We are proud to present our first alpha release. In the last few weeks we have improved A LOT about this game. You can download and see it for yourself but for example:
Procedural generated maps. No more running and gunning on the same map as before.
Fully animated enemies and player.
The flamethrower has been added to Pimp's arsenal: Does damage when you hit them and then they keep burning.
A new vampire has been added. We like to call him "Fatty-fat-vamp".
Weapons can now be found and picked up througout the levels. But you can take 4 at most.
The appearance of Porto, a fast-food loving vampirer doorkeeper, He keeps your way to the next level shut. Of course he can be bribed.
A new main menu has been added.
You can shoot painting for extra items.
We made some changes:
Action Points and weapon costs have been cut in half. After FTJ a lot of people complained about vampires jumping in and out of the player's field of view. Starting now enemies that are close to the player (but not in sight) generate a ripple effect, for a brief moment, revealing their location but not their true kind.
In terms of bug fixing we can say that 99% of the bugs present in the jam version are no longer a problem.
The Pixelouvre
During the past week we held a small party on twitter, called #PixelLouvre, and asked friends and followers to draw and submit paintings that can be featured in the game. Over 30 paintings were submitted by 20 awesome individuals, And it was awesome. All the paintings are in the game!
Pre-order:
The game is currently in open development, each alpha release being uploaded here, on indieDB.
If you pre-order the game now you will be given access to the BETA builds. Also you receive a neat digital codex containing background information about the story (to pre-order, you can press our classy button, which took us 3 hours just to get the tiger print right.)