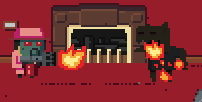 Barbecues are a great way to dig the hatchet and befriend an enemy. Well sometimes, but in Pimps vs Vampires this is not the case, especially if the main course are the Vampires themselves. Starting with v0.1.5 a new weapon has been added to Pimp's arsenal: The flamethrower. Here are some characteristics:
- Deals 4-7 damage on hit.
- Medium-range weapon and affects all enemies less then 3 tiles away from Pimp.
- Causes a nasty afterburn which deals damage over time.
- It can be combined with the Freeze Ray, leaving enemies stunned and burning.
- Costs 4 AP to use.