(Newest on top)
Picture of the Week 0015 - Week 1 January 2011



Assault Rifle 003 in Unity and the second hidden Easter Egg available inside our special Xmas level (which we'll make publicly available later this week) .. We really can't wait to make this baby playable with all its exciting extensions!
Picture of the Week 0014 - Week 52 December 2010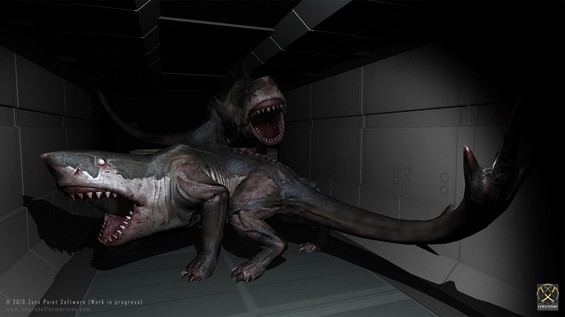 When we created our special Spearhead and Frontliner Christmas present in Unity 3.1 .. we only had time to implement a few small Easter Eggs. One of the Easter Eggs is a black corridor with two Shark Creatures and with a bit more time we would have created a nice little shock effect to ruin your sleep! .. With Christmas coming every year, no doubt we'll get a second chance! :)
Picture of the Week 0013 - Week 51 December 2010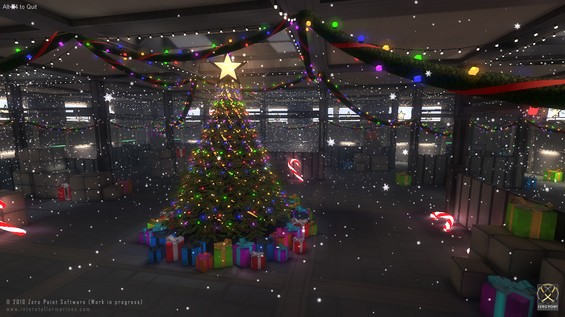 Merry Interstellar Christmas from Zero Point Software. Screenshot from our special Xmas present level build on Unity; a fun playground for getting up to speed with the many new wonderful features of Unity 3.
Picture of the Week 0012 - Week 51 December 2010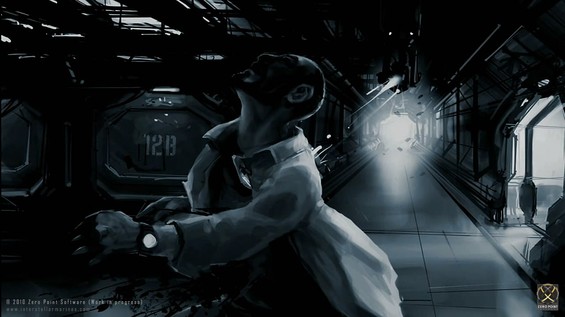 SARA has been neurologically designed to protect humanity against all threats of the unknown even if it means killing a few innocent people in the process.
Picture of the Week 0011 - Week 50 December 2010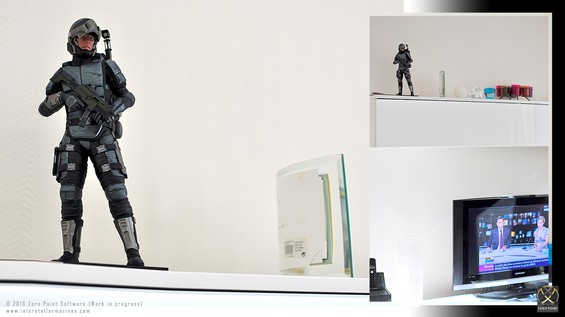 We recently found a few images sent to us by Stol2K; the lucky winner of our legendary Interstellar Marine model .. which we gave away back when we launched the community site last year. We miss you so much and really hope to some day be "able" to create a whole family of detailed miniature models of all the primary characters in IM.

Picture of the Week 0010 - Week 49 November 2010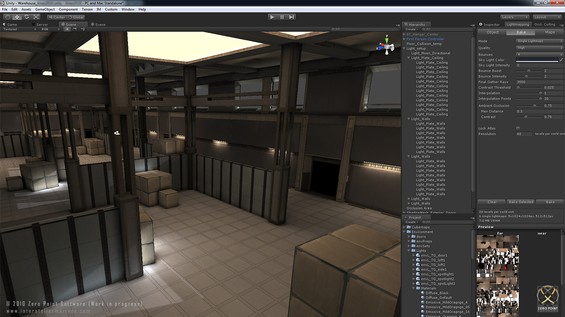 Early dump of our first attempts at giving the lightmapper in Unity 3.1 a run for its money. The lighting setup consists of 1 directional light with all secondary illumination achieved with emissive materials. The bake took approx. 3 hours (i7 Q720 1.6GHz) based on the bake-settings shown to the right.

Picture of the Week 0009 - Week 48 November 2010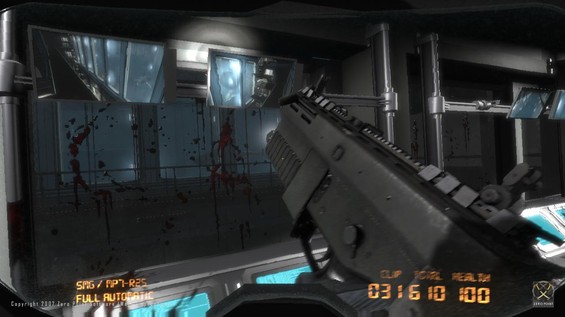 The players have managed to clear their way down to a barricaded control room overlooking the giant Carcharodon Carcharias water-tanks. Biological research is still under complete AI lock-down and it'll take a manual systems override to gain access to the flooded basements of Operations and further down to the stations mainframe.
Picture of the Week 0008 - Week 47 November 2010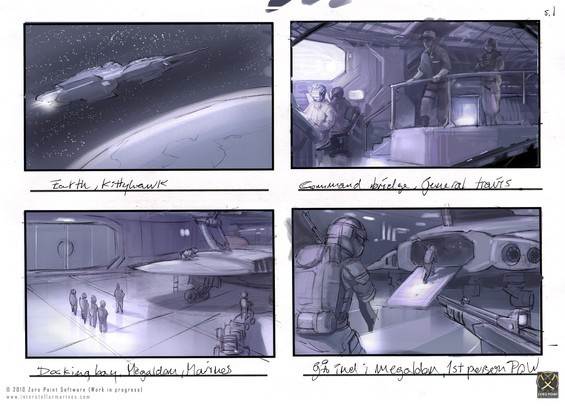 A few slides from an early storyboard we've created to visualize the moments envisioned for our ambitious coop campaign called IM: Prologue, which allows players to experience the back story leading up to "IM: First Contact"; the first full game in the Interstellar Marines trilogy. Prologue is unfortunately still tucked away in a drawer because its too expensive to realize at the moment!
Picture of the Week 0007 - Week 46 November 2010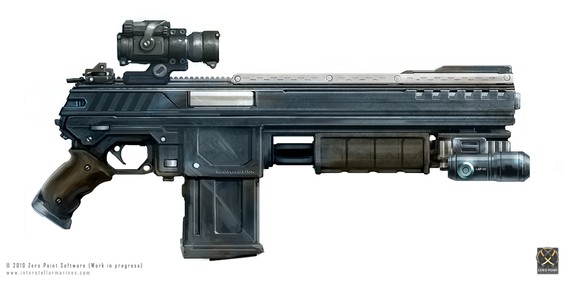 Near final concept iteration of the Meikyu 2.1 "Rhino" Tactical Shotgun, shown here with Effective Range Scope and without buttstock. "I like to keep this handy... for close encounters!"
Picture of the Week 0006 - Week 45 November 2010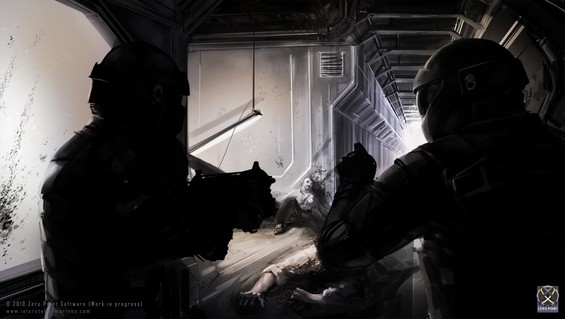 ITO AI 'SARA' has Genetic Research under complete security lock-down, trapping all survivors and allowing all virus infected scientists to kill everybody still alive on-board orbital research station X13!

Picture of the Week 0005 - Week 44 November 2010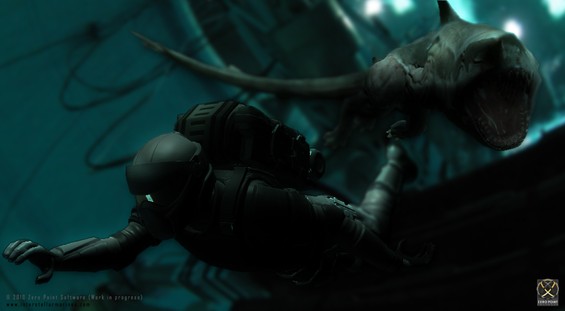 The Carcharodon Polemos is mankind's most deadly killing machine on land, but if you ever encounter one underwater, You'll need to be somewhere else!
Picture of the Week 0004 - Week 43 October 2010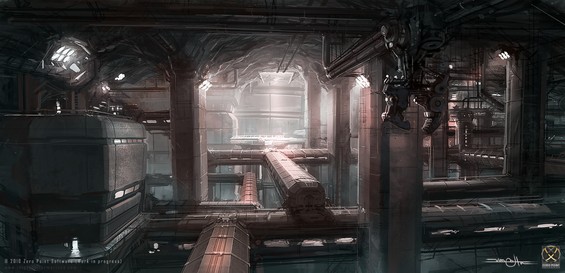 ITO Strategic Command have close to unlimited funds when it comes to constructing the most advanced high tech training facilities for the candidates of "Project IM"!
Picture of the Week 0003 - Week 42 October 2010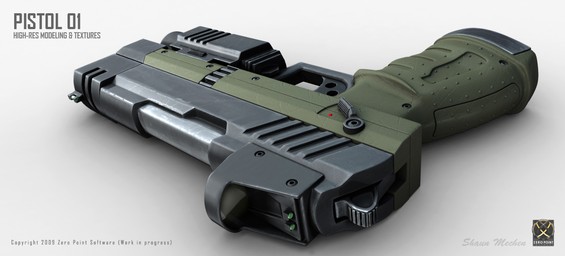 The pistol 01 concept is a very precise and reliable sidearm!
Picture of the Week 0002 - Week 42 October 2010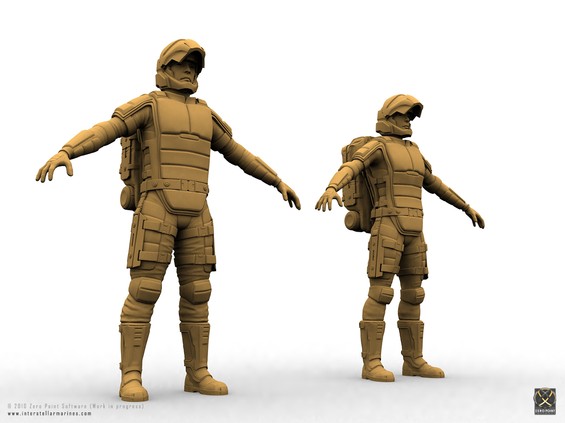 Male and Female in standard Interstellar Marines zero environment combat suit. Sorry, no Lara Croft chest available with this special forces equipment!
Picture of the Week 0001 - Week 42 October 2010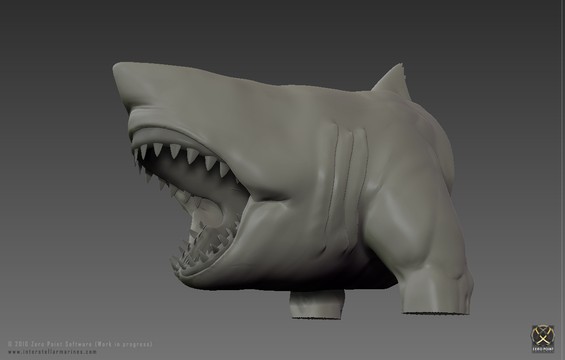 First Picture of the Week is a high-res modeling render of our beloved Carcharodon Polemos (Shark Creature) from when Bokaja modeled the latest iteration of this genetic experiment!