Hello Folks!
It has been a while - again - but here we are.Back with a little big update. This time we can present you 2 big things. But lets start with something smaller. We have a load of new screenshots here, which we like you to see.
The Prison
We fought a lot with different settings of textures, lighting and brushwork. We came up with the following. However, the lighting is still subject to change, aswell as those hl2 props here and there. Here you are:
The Island
Neahc and his team are working hard to get the island layed out as good as possible. However, what you see in the screenshots is only the beginning. There are some even more awesome things planned but they will take some time. Screens? Look there:
Now lets get to the big deals. Let me re-introduce you to ...
John Doe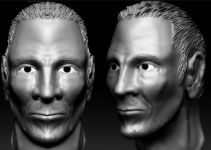 And now, the highlight of todays update, the...
Prison Island Teaser, Welcome to Paradise
That's it for today folks, I hope you enjoy our progress. have a nice day, and don't forget to look here too:
-Prison Island Steam Group
-damagefilters blog (for smaller updates on the current progress)