Welcome everyone to today's update on the Petrograd Project, The Space Cowboys Development Team has worked hard over the past weeks to create more top quality assets getting closer to their next milestone, of a full trailer that will include gameplay. Your comments are much appreciated so if you have anything to say, please post here.
First Person Arms Finished Model
The First Person Arms will include a fully functioning PDA that will integrate to the GUI, Talented team member - 3D Artist Anton Kozlov has been hard at work to create the Protagonist's arms. Shown below are the finished First Persons hands, Textured and ready for rigging, team member - Lead Animator Chris Lau is now rigging and animating them.
WIP PK Machine gun (PKM) Model
The PK is a 7.62 mm belt fed general purpose machine gun (SAW) designed in the Soviet Union in the 1960s, and is currently in production in Russia. The PK machine gun can be used as a light anti-aircraft weapon when it is put on an AA mount. The PK is feeds from the right and ejects its spent cases via an ejection port on the left side of the weapon, as opposed to the right side ejection port seen in most western machine guns. Shown below are WIP models created by talented team member - 3D Artist Mark Ashton who is now texturing the weapon.
MK23 Pistols Laser and Flashlight attachment WIP Model
The HK MK23 pistol has a unique laser and flashlight attachment it is modeled by talented team member - 3D Artist Mayan Ariel who is now texturing it to fit perfectly with the pistol.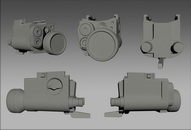 WIP Buildings and City Props
The Petrograd city will include many types of buildings, Shown below are new Buildings and related props created by talented team member - 3D Artist Ben Wright.
Team Recruitment
The Space Cowboys Team is now recruiting talented:
Flash Coders (Action Script 2.0 and up)
LUA / C++ Coders
Modelers
Texturers
Riggers
Animators
if you are interested or know anyone that would be, please contact Team Leader Roy Shapira via PM here or E-mail: jobs@petrograd-game.com
Related Links:
- Official web-site: www.petrograd-game.com
- Crymod.com Page: Petrograd
- YouTube Trailer: Petrograd Teaser Trailer
- Space Cowboys Development Team