I'm not dead...you are
Well, gentlemen. I'm not dead. Obviously, I updated yesterday, and have been working hard.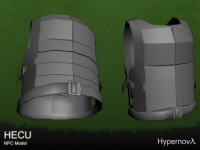 I've also started on my gamemode, fraud.
I wrote: In the beginning, you get to choose ONE weapon. When you kill an opponent, you steal his weapon, but lose your current weapon, requiring you to adapt to the change. Other than that, it's just deathmatch.
I've also mapped a bit - I've been working on the first map. It's not enough to post, though. I'll work a bit more before posting. I've also started on bots, and mosters.
If they decided upon who I want to hire, if they'll still accept.
Johnny "manchow7" Pease - Music
James "Hedgepig23" Whale - Mapping
Trevor "X-LAyer2" Jamsey - Mapping
Cyrille "KillerZeta" - Rigger
Tiger "Sicka11" Markarian - Sound and Textures
Unknow5763 - Human Textures
To these people, please add me on steam, dexter_lolind (I made this account BEFORE I changed companies)
To everyone else, thanks a lot, but I'm trying to limit the team, and these seem to be the most experienced people.